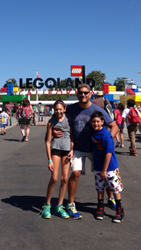 "Up until now technology has focused on allowing people to send messages instantly and to as many people as possible. KeepTree focuses on storing and delivering messages far into the future, and only the people you tell us to," says Jon Loew, KeepTree CEO
New York, NY (PRWEB) April 29, 2014
When Jon Loew was battling a life threatening illness, his biggest fear was wondering what would happen to his family if he didn't make it. He had two young children and the thought of him not being there as they grew up was constantly on his mind. So Jon started recording videos that they could watch if he was no longer there in person. There was no technology that would allow him to guaranty they would always be available and could be delivered at specific times in the future, hence KeepTree.com was born.
ABC News recently interviewed Jon about his struggles and what drove him to build a solution then eventually a company to help others in similar situations. You can click here to read the full ABC News story and watch some of the videos he created for his children. It's a situation many people find themselves in today and one not easily addressed as individuals are dealing with a very difficult and emotional time. People tend not to want to think about the worst case scenario but it is something they can't completely ignore. KeepTree hopes that its solution can provide some comfort to that difficult situation and provide individuals with a realistic tool to ensure they remain a part of their families live and memories forever.
"Up until now technology companies have been focused on allowing people to send messages instantly, and to as many people as possible. KeepTree focuses on storing and delivering messages far into the future, and only the people you tell us to," says Jon Loew, KeepTree Founder & CEO.
Since launching, KeepTree users continue to find new ways to benefit from its private video messaging solution. Individuals use it to keep in touch while traveling, record birthday video messages, share videos of their kids with family members and more. KeepTree also offers it's service to U.S. Military Members and their families, free of charge and branded TroopTree, so they can stay in contact while deployed overseas. KeepTree also just recently released a solution allowing users to sell video content to their own audience.
About KeepTree:
KeepTree (http://www.KeepTree.com) is a SaaS-based private video messaging and storage solution that allows you to easily capture, store and experience important moments, now and forever. KeepTree has partnered with Blue Ridge Networks, a recognized cyber security market leader, to create the most advanced end-to-end security features protecting video memories. With unique features, like FutureSend™, users can schedule exactly when to send a pre-recorded video and control who gets to see it. No matter if that's thirty days from now or thirty years from now, videos are delivered the way you want, when you want. Advanced privacy settings ensure that videos are only seen by intended recipients. KeepTree's Headquarters are in New York, with an office and staff in Tokyo as well.
KeepTree also operates the "TroopTree" service (http://www.TroopTree.com), which is available at no charge to active duty military personnel and their families. FutureSend™ and VideoVault™ features make TroopTree.com an ideal communication platform for service men and women to stay in touch with family and friends during deployments. TroopTree.com gives military families the peace of mind of knowing they can record and share legacy communications.