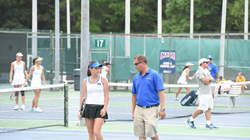 I am excited to get to work immediately and put my stamp on the Keiser University Tennis Program.
Sarasota, FL (PRWEB) August 04, 2015
Keiser University has announced the hiring of Daniel Finn as the head men's and women's tennis coach for the Seahawks. Finn comes to Keiser after serving as the head tennis coach at Lindsey Wilson College.
His men's team amassed a school record 18 match winning streak, while advancing to the NAIA National Championship quarterfinals, after defeating the Seahawks in the second round. The women's team finished the year with 17 wins and advanced to the NAIA National Championship semifinals. For their efforts, the men had six players earn All-Conference including the Player of the Year, and the women had six All-Conference players along with Freshmen and Player of the Year honors. In addition, Finn had three women and two men named NAIA All-Americans. His men's and women's teams would finish the year as NAIA scholar teams. The men's team finished with a 3.31 overall team GPA and the women's team with a 3.66 overall team GPA, which would be tied for the highest team GPA at Lindsey Wilson College.
"I am extremely excited to add Daniel Finn to our team. He brings a competitive persona to our men's and women's tennis program. He has great experience advancing in the NAIA National Tournament and we look forward to seeing him reconstruct our program to provide both a positive student-athlete experience and a competitive culture," said Director of Athletics Nick Davidson.
This past season, he led both the men's and women's teams to Mid-South Conference regular season and tournament championships, while being named the Men's and Women's Mid-South Coach of the Year, along with being named ITA NAIA East Region Men's Coach of the Year.
"First off, my family and I want to thank Director of Athletics Nick Davidson for this great opportunity to join the Seahawks family. I am excited to get to work immediately and put my stamp on the Keiser University Tennis Program. This is an amazing place with a great mission to build future leaders in this world. I only see great things in store for the future of Keiser Tennis," said Daniel Finn.
Prior to Lindsey Wilson, Daniel was named the head women's coach of NCAA Division 1 Northern Iowa in 2013-14. In his lone season, his team finished 4th in the Missouri Valley Conference and advanced to the quarterfinals of the Missouri Valley Conference Tournament, while amassing the program's first ever undefeated home season going a perfect 11-0 at home matches during the season.
Finn continued, "South Florida in general is a hotbed for tennis and I can't wait to get the community in West Palm Beach excited about the Keiser University Seahawks Tennis Program. It is my vision to build a program that is respected at the national level not only for on the court performance but also for it's off the court performances. When players are disciplined off the court and doing to proper things in life to be successful individuals then the rest will fall into place on the court. This program already has a good foundation in place. The biggest thing coming in will be getting the team to buy into and trusting in my coaching system and the overall process. Once this happens, I am confident that great things will soon follow."
His first head coaching stint came in 2009 as he took a winless NCAA Division 3 program at Simpson College and guided the men's team to a nine-win season, before moving on to serve as the head coach at Union College from 2009-2011. At Union he was a two-time AAC Coach of the Year, while leading his team to consecutive appearances in the NAIA Second round and earning ITA East Region Men's Coach of the Year in 2011.
Daniel is a graduate of Lindsey Wilson College where he received his bachelors in Recreation & Physical Education. He now resides in Florida with his wife Roxanne and their three daughters Payton (4), Brooklynn (2) & Kennedy (8 months).
About Keiser University: Keiser University is a private, not-for-profit University serving nearly 20,000 students offering 100 degrees at the doctoral through associate level on 18 Florida campuses, online and internationally, employing 3,500 staff and faculty. Keiser University holds Level VI accreditation signifying recognition of its expanded doctoral degree offerings.
Statewide Keiser University campuses currently have 60 accredited programs, spanning 21 program offerings, from 18 accrediting agencies/regulatory agencies to ensure that the top industry standards are met in degrees such as nursing, occupational therapy assistant, radiologic technology, physical therapy assistant, physician's assistant, and many others.
Keiser University is accredited by the Southern Association of Colleges and Schools Commission on Colleges to award certificates and degrees at the associate, baccalaureate, masters, specialist, and doctoral levels. Contact the Commission on Colleges at 1866 Southern Lane, Decatur, Georgia 30033-4097 or call 404-679-4500 for questions about the accreditation of Keiser University.