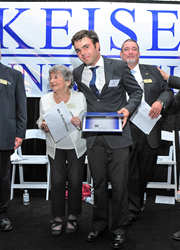 Keiser University and the Keiser Mills Foundation are fortunate to have dynamic students who are committed to their education and career paths.
West Palm Beach, Florida (PRWEB) October 15, 2015
Keiser University honored five students with $5,000 tuition scholarships from The Keiser Mills Foundation, during the ceremony to highlight the new Flagship campus located at 2600 North Military Trail in West Palm Beach, FL. The scholarships were awarded in three categories, Spirit of Entrepreneurship, Global Leadership, and American Heroes.
"Keiser University and the Keiser Mills Foundation are fortunate to have dynamic students who are committed to their education and career paths," said Belinda Keiser, Vice Chancellor. Providing scholarships to deserving students seeking to lead, excel, and innovate in their chosen career fields is a primary goal of the Keiser Mills Foundation, she added.
The recipients included:
Joseph Marianacci (Spirit of Entrepreneurship)
Joseph started his own business in his small apartment with a $400.00 investment and now has a 3000 square foot warehouse in Fort Lauderdale, where he has 4 employees and his intent is to continue hiring either war veterans or persons that have had a difficult time in finding employment.
Jose Alonso (Global Leadership)
Jose is an international student on the golf team and is experienced in dealing with international conflict. He has served on an international debate league in his home country of Spain, and was on the forefront of understanding international commercial agreements.
Kenneth Rodriguez (American Heroes)
Kenneth has served six years in the US Air Force, both in Iraq and Afghanistan. He has performed over 350 hours of Air Force Honor Guard for deceased veterans, and he is a member of Phi Theta Kappa Honor Society. He lives by the core values: Integrity first, service before self, and excellence in all we do.
The recipients from Keiser University's second West Palm Beach campus, at 2085 Vista Parkway, included:
Alexis Alejandro (American Heroes)
Alexis has served our country since 2008, and lives by the core values of honor, courage, and commitment to our nation, and is currently excelling in the IT Industry. Alexis is an avid volunteer and a member of Phi Theta Kappa Honor Society and the Student Government Association.
Kyle Johnson (American Heroes)
Kyle served in the US Marine Corps for 20 years and is the recipient of the Military Outstanding volunteer Service Medal for serving more than 553 volunteer hours. He is the father of seven children and instills in them the value of service and giving back to the community.
Applicants for the Global Leadership Scholarship had to demonstrate experience and/or interest in leading the global marketplace throughout their major or in their future career. Those receiving the America's Heroes Scholarship had to demonstrate military service and/or civic or charitable involvement in the community and/or on campus. Finally, the recipient of the Spirit of Entrepreneurship Scholarship had to demonstrate entrepreneurial spirit, ambition, and/or entrepreneurial experience throughout their major or in their career.
About Keiser University: Keiser University is a private, not-for-profit University serving nearly 20,000 students offering 100 degrees at the doctoral through associate level on 18 Florida campuses, online and internationally, employing 3,500 staff and faculty.
Sixty-two percent of KU students graduate in STEM (Science, Technology, Engineering and Math) and healthcare fields, providing the talented workforce necessary for Florida to compete globally.
Keiser University is accredited by the Southern Association of Colleges and Schools Commission on Colleges to award certificates and degrees at the associate, baccalaureate, masters, specialist, and doctoral levels. Contact the Commission on Colleges at 1866 Southern Lane, Decatur, Georgia 30033-4097 or call 404-679-4500 for questions about the accreditation of Keiser University.
For additional information regarding Keiser University, go to http://www.keiseruniversity.edu