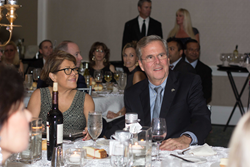 I am deeply honored that our students, faculty, and administration year-over-year mobilize in pursuit of a cure for cystic fibrosis.
Ft. Lauderdale, Florida (PRWEB) January 07, 2016
Keiser University, in its ninth year, raised another $50,000.00 in support of the Cystic Fibrosis Foundation by mobilizing students, staff, and faculty at its 17 campuses in Florida. The University has an ongoing commitment to supporting research in finding a cure for this life-threatening, genetic disease that causes persistent lung infections and progressively limits the ability to breathe.
This year's campaign took on a Terminator movie-inspired theme to incite Keiser University campus communities to raise funds in hopes of terminating cystic fibrosis (CF). The Keiser effort was part of an event led by former Florida Governor Jeb Bush, who is the honorary chairman of the annual Jeb Bush Florida Classic, which has raised nearly $8 million for cystic fibrosis research and care since the event's inception 20 years ago.
The gala ceremony was held Nov. 20 at the Fort Lauderdale Beach Westin, where Belinda Keiser, Vice Chancellor of Keiser University, was provided the honor of introducing former governor Jeb Bush. Mrs. Keiser praised Mr. Bush for being a father and governor who made a promise to another father who had lost his daughter to CF several years ago. For nearly a decade, Keiser University has supported the Cystic Fibrosis Foundation through creative campaigns designed to raise funds to eradicate the disease. The Terminator campaign included raffles, silent auctions, dress-down for CF days, bake sales, penny wars, themed gift baskets, and much more.
"We are beyond grateful for everything Dr. and Mrs. Keiser and everyone at Keiser University have done to support our efforts for nearly a decade," said Christina Landshut, executive director of the CF Foundation's South Florida Office. "We would not be nearly as successful without the ongoing commitment of Keiser University's faculty, staff and students. They truly are making a difference for everyone with CF."
Over 250,000 Americans volunteer across the country tirelessly working to advance critical CF research through their fund-raising efforts, as well as increase awareness about the disease.
"I am deeply honored that our students, faculty, and administration year-over-year mobilize in pursuit of a cure for cystic fibrosis," said Keiser. Their community commitment, which is a critical component of our educational mission, has helped raise $380,000.00 throughout our service to the Cystic Fibrosis Foundation. Collectively we look forward to the day we can celebrate that the letters CF stand for "Cure Found," she added.
About Keiser University: Keiser University is a private, not-for-profit University serving nearly 20,000 students offering 100 degrees at the doctoral through associate level on 18 Florida campuses, online and internationally, employing 3,500 staff and faculty.
Keiser University is accredited by the Southern Association of Colleges and Schools Commission on Colleges to award certificates and degrees at the associate, baccalaureate, masters, specialist, and doctoral levels. Contact the Commission on Colleges at 1866 Southern Lane, Decatur, Georgia 30033-4097 or call 404-679-4500 for questions about the accreditation of Keiser University.
For additional information regarding Keiser University, go to http://www.keiseruniversity.edu