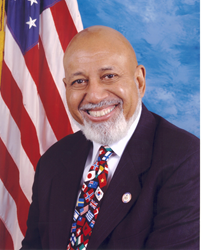 Each year, it is a pleasure to share in the joy and excitement of our graduates who have taken the steps to empower themselves and improve their quality of life by pursuing a college degree.
Lakeland, Florida (PRWEB) January 21, 2016
On Saturday, Jan. 23, Keiser University will hold its fourth annual statewide commencement ceremony to celebrate the accomplishments of its graduates from throughout Florida and students who attended classes online across the nation. Over 250 graduates and 2,500 guests are expected. The ceremony will be held at the Lakeland Center's Youkey Theater, located at 701 West Lime Street, in Lakeland. It begins at 11:00 a.m. with the doors opening at 10:00 a.m. for guests to be seated.
Keiser University is pleased to welcome Congressman Alcee L. Hastings as the keynote speaker for the 2016 statewide commencement ceremony. Hastings was first elected to represent his native state of Florida in 1992 and is currently serving his 11th term in the Congress. He was born in Altamonte Springs and attended Florida's public schools. Hastings graduated from Fisk University before earning his law degree from Florida A&M University. In 1979, President Carter appointed Hastings as the first African-American Federal Judge in Florida. Hastings is a senior member of the House Rules Committee, Senior Democratic Whip, and Co-Chairman of the Florida delegation.
"Each year, it is a pleasure to share in the joy and excitement of our graduates who have taken the steps to empower themselves and improve their quality of life by pursuing a college degree," said Belinda Keiser, Vice Chancellor. "We are thrilled to welcome Congressman Hastings as a part of this landmark day in the lives of our students. They are entering into their professional paths and a journey of lifelong learning with the knowledge they gained at Keiser University and we look forward to the contributions they are sure to make in their communities," she added.
Valedictorian Joseph Cristofaro is from Lakeland and has earned his bachelor's degree in Criminal Justice. Cristofaro also earned his associate degree in criminal justice from KU. He is a combat veteran and retired as a Master Sergeant from the United States Army, where he supervised the mentoring and combat training of over 15,000 Reserve and National Guard military members en route to Iraq and Afghanistan. He retired as a Senior Police officer for Plant City Police Department, where he worked as a vice detective, property detective, and street patrol officer. After retiring from the Plant City PD, he began working for the Florida Fish and Wildlife Conservation Commission as a law enforcement officer, and continues to do so. Cristofaro was also a member of Alpha Phi Sigma, a national honor society for students of criminal justice. While earning his degree, he had the support of his wife of 27 years, Denise, and his supervisors at Florida Fish and Wildlife Conservation Commission.
Keiser University has developed strong partnerships with many Florida businesses serving on its Advisory Boards, employing its graduates, or providing clinical and externship sites. Three of these companies will be recognized at the statewide graduation ceremony for their work in preparing graduates to lead in their professions. Representatives from Florida Hospital (Orlando), Lee Memorial (Ft. Myers), and Treasure Coast Urgent Care (Port St. Lucie) will be present to receive Employer Choice Awards for their continued commitment to the professional preparation of Keiser University students.
Commencement ceremonies are also held each summer at 17 Keiser University campuses honoring approximately 5,000 graduates per year. The winter statewide event is a second opportunity for eligible Keiser students from any Florida campus, across the nation, and internationally, to graduate with their classmates in one convenient location.
About Keiser University: Keiser University is a private, not-for-profit University serving nearly 20,000 students and offering 100 degrees at the associate through doctoral levels on 18 Florida campuses, online and internationally. It employs 3,800 staff and faculty.
Keiser University is accredited by the Southern Association of Colleges and Schools Commission on Colleges to award certificates and degrees at the associate, baccalaureate, masters, specialist, and doctoral levels. Contact the Commission on Colleges at 1866 Southern Lane, Decatur, Georgia 30033-4097 or call 404-679-4500 for questions about the accreditation of Keiser University.
For additional information regarding Keiser University, go to http://www.keiseruniversity.edu