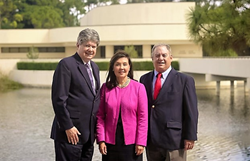 Earlier this year, the Sun Conference Presidents chose Dr. Duncan to represent our Conference at its highest level: the NAIA Council of Presidents.
West Palm Beach, FL (PRWEB) March 31, 2016
Keiser University's Flagship Campus president, Dr. Tom Duncan, was named the President of the Sun Conference, as well as President of the Council of Presidents, which is the governing body of the Sun Conference.
Dr. Duncan said, "It is an honor for me to be selected by the Presidents of The Sun Conference institutions to be the Chairperson of our Presidents group for the upcoming year. It will be a good learning opportunity for me, and I hope to bring to the national discussions a sense of what is important to our institutions, and the student athletes, which make up the Sun Conference."
All modifications to the Conference's governing documents must be approved by the Council of Presidents. As its leader, Dr. Duncan will be intimately involved in all changes to the Conference's vision and direction. Additionally, as Chairman of the Sun Conference Council of Presidents, Dr. Duncan is a member of the NAIA's Council of Presidents, which determines the strategic plan of the entire NAIA.
Sun Conference Commissioner Mark Pope said, "Earlier this year, the Sun Conference Presidents chose Dr. Duncan to represent our Conference at its highest level: the NAIA Council of Presidents. This is a true testament to Tom's insight, leadership and vision, as well as his ability to direct our Conference through challenging times in intercollegiate athletics. I am thrilled to have the opportunity to work with Tom for the next two years. He has already proven to be a great resource for me and our athletic directors. Lastly, his sense of humor and insight make him a great friend and trusted advisor. Under Tom's leadership, these will be great years for our Conference."
The Keiser University Seahawk Athletics Department offers 20 sports including men's and women's basketball, golf, soccer, tennis, swimming, and more. In addition to Keiser University, the Sun Conference includes members from competitive Florida institutions and beyond such as: Ave Maria University, Florida Memorial University, Johnson & Wales University, Savannah College of Art and Design (GA), Southeastern University, St. Thomas University, Thomas University (GA), University of South Carolina-Beaufort Warner College, and Webber International University.
About Keiser University: Keiser University is a private, not-for-profit University serving nearly 20,000 students offering 100 degrees at the doctoral through associate level on 18 Florida campuses, online and internationally, employing 3,800 staff and faculty. Keiser University and the Keiser Mills Foundation provide nearly $44 million annually in need-based and academic scholarships.
Keiser University is accredited by the Southern Association of Colleges and Schools Commission on Colleges to award certificates and degrees at the associate, baccalaureate, masters, specialist, and doctoral levels. Contact the Commission on Colleges at 1866 Southern Lane, Decatur, Georgia 30033-4097 or call 404-679-4500 for questions about the accreditation of Keiser University.
For additional information regarding Keiser University, visit http://www.keiseruniversity.edu