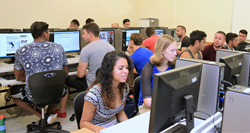 This competition is a wonderful opportunity for our students to participate in the entrepreneurial process as they prepare for their future business opportunities.
West Palm Beach, Florida (PRWEB) April 09, 2016
Keiser University Entrepreneurship Society students will share up to $10,000.00 in funds to compete for the most market-worthy, conceptually enterprising idea at the University's 1st Annual Entrepreneurial Pitch Competition. The event will be held Monday, Apr. 11 at 5:30 p.m. at the Flagship Campus (2600 North Military Trail) in the DeVos-Cook Academic Center Room 100.
The competitors will present a variety of creative ideas including a payment system for refugees seeking better life circumstances, a web-based application in which one can virtually design their own hairstyles while waiting for their appointment, a marketing tool for artists and entertainers, an international student service agency, and other ideas utilizing technology, holistic cosmetics, and a unique philanthropic juice business.
Directed under the guidance of Dr. Michael Olsher, Chair of Entrepreneurship, and George Stamas, Professor of Entrepreneurship and Finance, the Keiser University Entrepreneurship Society was formed to bring students together to network in an environment where their entrepreneurial ideas and concepts for enterprise can be supported and accelerated, while providing the knowledge and skills necessary to help entrepreneurial dreams become a reality.
"We are excited and proud to be a conduit for bringing our students' new business ideas to life," said Olsher, who is also a serial entrepreneur, and a former operating executive for major corporations and start-up businesses.
Courtesy of Las Olas Capital, the Keiser Mills Foundation, Angelo Banta Law Firm, and Tristate Bank, the prize money will assist Keiser University's young entrepreneurs in bringing their inventions and business ideas to life.
The judges panel includes Glen Carwell, Associate Academic Dean at Keiser University's Port St. Lucie campus, Ron Gaither, President of FirstCity Bank of Commerce in North Palm Beach, and Brian Bastin, Keiser University Professor of Finance and Entrepreneurship.
In addition to providing students the opportunity to participate in entrepreneurial roundtables and pitch competitions, the Keiser University Entrepreneurship Society offers business support, mentoring opportunities, workshops, and training opportunities that focus on intellectual property rights, and more.
"This competition is a wonderful opportunity for our students to participate in the entrepreneurial process as they prepare for their future business opportunities," added Stamas, who has also served as a former Wall Street banker and entrepreneur.
Founded by two entrepreneurs 40 years ago, Keiser University highly encourages students and graduates to launch their own companies while being of service and leadership in their communities. Recently, Belinda Keiser, Vice Chancellor of Keiser University, announced the launch of a Center for Entrepreneurship and Innovation at the Flagship Campus. The Center is intended to prepare graduates for entrepreneurship and to reach greater heights in their chosen professions, as many alumni already have.
About Keiser University
Keiser University is a private, not-for-profit University. It serves nearly 20,000 students, offers approximately 100 degrees at the doctoral through associate levels on 18 Florida campuses, online and internationally, and employs 3,800 staff and faculty. Keiser University holds Level VI accreditation signifying recognition of its expanded doctoral degree offerings.
Keiser University is accredited by the Southern Association of Colleges and Schools Commission on Colleges to award certificates and degrees at the associate, baccalaureate, masters, specialist, and doctoral levels. Contact the Commission on Colleges at 1866 Southern Lane, Decatur, Georgia 30033-4097 or call 404-679-4500 for questions about the accreditation of Keiser University.
For more information about us, please visit http://www.keiseruniversity.edu