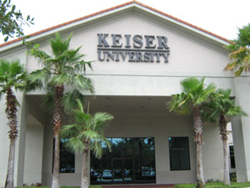 We are fortunate to be a part of an active S.O.T.A. Club, where our members continually strive to give back to the community by providing services to those who are in need locally.
Daytona Beach, FL (PRWEB) August 13, 2015
The Student Occupational Therapy Association (S.O.T.A.) Club is an organization focused on promoting, in all possible ways, the diffusion of occupational knowledge for the benefit and welfare of the student, the academic community, and the public. Student members, such as those at Keiser University's Daytona Beach campus, are actively engaged in creating knowledge on the importance of occupational therapy while playing an active role in the community. Upon learning of the health status of a cousin of one of the club members, the students met to discuss plans to raise money to assist with medical expenses.
In just one week, the 25 club members hosted numerous fundraisers at the Daytona Beach campus to assist and they raised over $500. The Club held a dress down day where students were able to wear blue jeans in lieu of their scrubs or professional attire. Two other fundraising events were held at the campus for the students, faculty and staff where the SOTA members prepared and served various types of soup and salad and on another day they sold chili and sides to enhance their dish.
"We are fortunate to be a part of an active S.O.T.A. Club, where our members continually strive to give back to the community by providing services to those who are in need locally," shared Ashley James, S.O.T.A. Club President at the Daytona Beach campus, who will graduate this December.
Aside from this fundraiser, over the last two years, some of the other S.O.T.A. Club activities included participation in a 5K Walk with Easter Seals, a food drive and provided back packs to Pathways Elementary students during the summer (when no food services are provided). They also provided over 100 backpacks filled with an array of toiletries, socks and blankets to the homeless during the winter through Halifax Urban Ministries, hosted basket raffles and other fundraisers on campus to benefit a Clinical Site Instructor at an externship fieldwork site who was recently diagnosed with MS.
Jeannette Miller, the faculty advisor for the S.O.T.A. Club is one of the Occupational Therapy Assistant instructors at the Daytona Beach campus and couldn't be more proud of her students. "Since our profession involves doing, it's great for our students to begin helping in our community with service projects. It's rewarding for us to see our students' blossom into warm and caring professionals in the community."
Inherent in the mission at Keiser University is service to the community. This service includes community partnerships, involvement with various constituencies, and various continuing education programs.
About Keiser University: Keiser University is a private, not-for-profit University serving nearly 20,000 students offering 100 degrees at the doctoral through associate level on 18 Florida campuses, online and internationally, employing 3,500 staff and faculty. Keiser University holds Level VI accreditation signifying recognition of its expanded doctoral degree offerings.
Statewide Keiser University campuses currently have 60 accredited programs, spanning 21 program offerings, from 18 accrediting agencies/regulatory agencies to ensure that the top industry standards are met in degrees such as nursing, occupational therapy assistant, radiologic technology, physical therapy assistant, physician's assistant, and many others.
Keiser University is accredited by the Southern Association of Colleges and Schools Commission on Colleges to award certificates and degrees at the associate, baccalaureate, masters, specialist, and doctoral levels. Contact the Commission on Colleges at 1866 Southern Lane, Decatur, Georgia 30033-4097 or call 404-679-4500 for questions about the accreditation of Keiser University.
For additional information regarding Keiser University, go to http://www.keiseruniversity.edu