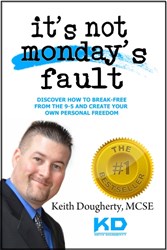 After years of moving from one online opportunity to another, I discovered how to make money and how to be successful, without a lot of pain and difficulty. That's why I wrote "It's Not Monday's Fault." To teach others how to do the same.
Syracuse, NY (PRWEB) August 21, 2013
Author Keith Dougherty has changed the way thousands live their lives with his new book, "It's Not Monday's Fault: Discover How to Break-Free from the 9-5 and Create Your Own Personal Freedom." As a Marketing Expert and Online Entrepreneur, Keith is uniquely suited to teach readers how to make money online, as evidenced by the amazing success of his latest book.
Keith shows entrepreneurs his fool-proof system for transforming a marketing opportunity into an online success. He shows his readers the 3-step mindset transformation to launch their business, keys to market selection and how to drive free and paid traffic to their online business.
"A Real Winner! Detailed info about Market Selection and Research, Product creation and Getting Traffic,... and much much more. I think the author explains all you need to get into Internet Marketing... You only need to take action. Excellent book." – Constantino D.
"This man is a genius! I have been following Keith Dougherty for a good while now and this book is an incredible example of what type of person he is. This man has so much knowledge on how to quit spending your time making money for some corporation or lining some boss' pockets and to start making money for YOU. I love this book.–C K.
Keith has been lecturing and doing radio interviews about his marketing techniques and business concepts.
Keith Dougherty has been an online entrepreneur for four years. In that time, he has tried dozens of different online businesses. Today, he is not only hugely successful businessperson, but he has also begun teaching his methods to others to great acclaim and success.
You can get a copy of the book on Amazon.com or you can click here: It's Not Monday's Fault