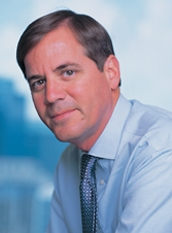 He is a model for everyone at the firm and for attorneys across the city of Chicago
CHICAGO, IL (PRWEB) May 18, 2015
Keith A. Hebeisen, partner at Clifford Law Offices, was given an Award for Excellence in Pro Bono Service by the U.S. District Court in conjunction with the Chicago Chapter of the Federal Bar Association.
The award was presented at the 16th Annual Excellence in Pro Bono and Public Interest Service Award Ceremony 1 p.m. on Thursday, May 14, in the James B. Parsons Memorial Courtroom, Room 2525 of the Dirksen Federal Building Courthouse, 219 S. Dearborn St., Chicago.
They keynote speaker at the event was be Matthew B. Moreland, President of the Federal Bar Association.
Hebeisen, a highly acclaimed trial attorney for 30 years, was nominated for the award by Judge Rebecca Pallmeyer for Hebeisen's pro bono work. Sarah F. King, associate at Clifford Law Offices, assisted Hebeisen. The final selection was determined by a committee.
"Clifford Law Offices is very proud of Keith's work throughout the years and the U.S. District Court as well as the Federal Bar Association also recognizing his excellence, his giving his all whether he is being compensated or not, demonstrates Keith's character and dedication to the profession," said Robert A. Clifford on Keith's award. "He is a model for everyone at the firm and for attorneys across the city of Chicago."
About Clifford Law Offices
Clifford Law Offices is ranked one of the top law firms in Illinois as well as in the country in the area of complex personal injury and wrongful death cases such as medical malpractice, aviation litigation, products liability, premises liability and transportation litigation. It also has developed a reputation in qui tam litigation or whistleblower cases and handles class action matters as well as commercial litigation cases. To learn more visit http://www.CliffordLaw.com