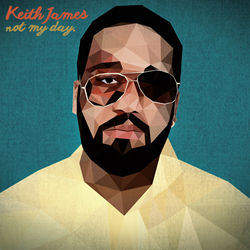 "Allow us to introduce to you the musical genius that is Keith James!" -Young Hollywood
Los Angeles, CA (PRWEB) February 18, 2015
R&B/Pop artist and Multi-platinum songwriter Keith James premieres the official music video for his debut single 'Not My Day,' a captivating mix of feel-good Pop, Hip-Hop, and R&B/Soul with lyrics that entice to sing along and everyone can relate to.
The music video for this bliss-inducing single is a dance ensemble love story with moving sets, animation and a perfectly choreographed dance sequence performed by characters who all play a role in ruining James's day. "We tried to capture the idea that life shouldn't be taken so seriously and to appreciate the moment and just keep on keeping on," says Danny Erb, the director of the music video. "Keith is one of the nicest people I have ever met and has a huge personality that I am glad we could bring out on screen," explains Erb.
In celebration of his debut single, James is offering a chance for fans to win one of ten live performances for themselves and their guests at the private venue of their choice, such as their house, school, work, wedding, or wherever they choose. Official rules for the "Lucky Fans Tour" Sweepstakes are available at http://www.whoiskeithjames.com/lucky.
Keith James was born and raised in one of South Side Chicago's most dangerous neighborhoods and began performing musically at the tender age of nine. His distinctive blend of Pop, Hip-Hop, and R&B has led to writing multiple songs for top-selling artists including Jeremih and Nicki Minaj. Upon completing "Not My Day," James and Schultz realized that the electric, upbeat song was something special. "Sometimes when a unique song comes along it only makes sense to have the original writer sing it," says Schultz. "This is Keith's song!"
Watch "Not My Day' music video: http://smarturl.it/NMDVid
Download "Not My Day" on iTunes here: http://smarturl.it/NMD
For high-resolution press photos and media kit, visit: http://smarturl.it/keithjamesEPK
For more information on Keith James, please visit:
whoiskeithjames.com
facebook.com/whoiskeithjames
twitter.com/whoiskeithjames
instagram.com/whoiskeithjames
youtube.com/c/whoiskeithjames1