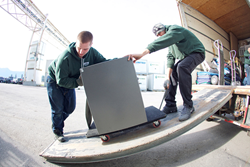 It's quite a substantial move so we've scheduled roughly six to eight weeks to pull it off
(PRWEB) September 20, 2016
The last 10 months have been a massive undertaking for the commercial movers at Bekins Moving & Storage. All of the planning and hard work will pay off in October when they finally get to help move more than 800 employees of the Interior Health Authority into the organization's brand new office in downtown Kelowna.
To manage a move of this scale, Bekins began preparations in January. They won the bid for the contract by partnering with Colliers International (commercial real estate management) and Chase Office Interiors (office equipment supplier). Bekins, of course, is handling the moving and storage aspect of the operation.
According to a report by Castanet in late August, contractors were putting the finishing touches on the landscaping of the four-story office tower. The article also indicated the project was on schedule and would be ready for the highly anticipated October move.
"It's quite a substantial move so we've scheduled roughly six to eight weeks to pull it off," says Nathan Miller, owner of Bekins. "The second they're ready to go, we start putting office furniture in there."
The planning process wasn't without its logistical challenges. It's no easy feat to move more than 800 employees from 10 separate locations into a single office at the busy corner of Doyle Avenue and Ellis Street. Miller notes one of the main goals for any commercial move is to minimize downtime and disruption.
When asked what the biggest obstacle was, the affable Miller laughs: "Across the board, it's just having everyone keep up with me. You have to have the right staff in place."
Bekins, which is already recognized by companies as the long distance movers Canada trusts, has rapidly expanded operations since Miller took over in January 2015. In that time, he increased his warehouse capacity from 8,000 square feet to nearly 20,000 square feet. By Christmas, he expects that number to be closer to 24,000.
Fortunately, there's plenty of room to grow in their current location at the old Hiram Walker plant—a 45,000 square-foot facility—in the Winfield Industrial Park.
Miller has also increased his arsenal of moving equipment by about two-thirds since he started with Bekins, growing from 30 pieces to more than 50. This includes everything from moving trucks to forklifts to specialized dollies.
For this time of year, it's normal for things to slow down for both local and long distance moving. There's less work to go around because fewer residential clients are moving. Thanks to their increasing role as commercial movers, Bekins is holding strong.
Miller currently operates with a staff of 40, and he has recently hired for several key positions, including a new dispatcher and office admin worker.
"Peak season is now over, but we haven't slowed down, we just changed gears," says Miller. "I don't have enough staff to do all of the winter work I have lined up. That's pretty unheard of in our industry."
About Bekins Moving and Storage
With a history dating back to 1891, Bekins Moving & Storage has developed a trusted reputation across North America. As the largest moving company in Western Canada, Bekins offers a complete range of professional moving and storage services for both residential and commercial customers. This includes services for last minute and long distance moving, as well as moving specialty items like pianos, hot tubs, safes and industrial equipment.
For more information, please contact:
Nathan Miller
Owner
Bekins Moving & Storage
nathanm[at]bekins[dot]ca
250-766-1966
http://www.bekinskelownamovers.com/