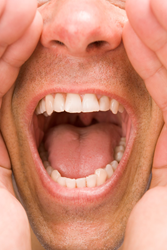 It's kind of hard to believe, but there are some times when brushing your teeth can do more harm than good.
Kelowna, British Columbia (PRWEB) July 10, 2014
Most of the time, your dentist is reminding when you should brush your teeth, but with summer indulgences ahead and the popularity of energy drinks on the rise, one Kelowna dental clinic is warning people about when not to brush.
"A lot of patients don't think about how brushing your teeth after drinking a pop or an energy drink can really destroy your teeth," says Dr. Jonathan Visscher, one of the partners and Kelowna dentists at Okanagan Smiles. "It's kind of hard to believe, but there are some times when brushing your teeth can do more harm than good."
Which acidic foods and drinks can hurt people's teeth when ingested just before brushing? The list includes drinks such as alcohol, energy drinks and soda as well as foods like chocolate, sour candies, oranges, blackberries, cranberries and salad dressings.
"The list goes on," says Visscher. "A lot of the things people eat and drink, especially in the summer when the rules are a little more relaxed, basically let your teeth bathe in acid."
Acidic foods and drinks can remove the minerals from the enamel matrix of people's teeth. Brushing those teeth right after drinking a soda or eating a chocolate bar, for example, increases the likelihood of enamel erosion. To help avoid dental erosion, Dr. Visscher's Kelowna dental clinic is reminding patients to wait at least an hour after eating or drinking something acidic.
Dr. Visscher says the best thing to do after eating an orange or drinking a glass of wine is drink water and wait 60 minutes for the minerals in the saliva to buffer the acids and bring the 'oral environment' closer to 7. Then people can brush and floss to get rid of any remaining food.
"Everything needed in a healthy mouth is contained in your saliva. Toothpastes are there to help where you may be lacking, or to help abrade surface plaque faster so your brushing is more effective," says Visscher, who suggests using a very mild, non-abrasive toothpaste that can remineralize people's enamel. Toothpastes that are abrasive or acidic can further scrub away the top layer of enamel and lead to the yellowing, cracking and sensitivity of severe dental erosion.
"The worst are toothpastes with baking soda or additives like hydrated silica or calcium carbonate, which is what gymnasts and rock climbers use on their hands for grip," says Visscher. "You only get one set of teeth, so if you're indulging a bit this summer, protect your enamel by waiting an hour to brush your teeth with a mild toothpaste."
--
About Okanagan Smiles
Since 2009, the Kelowna dentists at Okanagan Smiles have been offering a range of teeth whitening and straightening options as well as other state-of-the-art dentistry services to give patients of all ages beautiful, healthy smiles they'll be proud of.
For more information, please contact:
Dr. Jonathan Visscher
Partner, Okanagan Smiles
hello[at]okanagansmiles[at]com
http://www.okanagansmiles.com/
1-250-763-3338