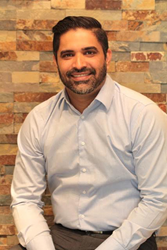 For me to be able to use my skills and knowledge to do this for someone here, to me, that's the best kind of charity.
(PRWEB) June 07, 2016
A Kelowna dentist looking for a way to give back to the community has just completed his first Give Back A Smile treatment six months after visiting the local women's shelter and meeting his trial patient: a woman who once avoided smiling and dreaded chewing who now looks forward to laughter and meals.
Dr. Vikram Grewal is the owner Okanagan Smiles, a Kelowna dental centre with a strong history of philanthropy. Grewal is a member of the American Academy of Cosmetic Dentistry, which encourages members to volunteer their skills for Give Back a Smile, a program for adults who have received dental injuries due to domestic or sexual abuse.
"For me to be able to use my skills and knowledge to do this for someone here, to me, that's the best kind of charity," says Grewal, who sought out the women's shelter to help screen candidates for his first time carrying out the program here in Kelowna. According to the program's criteria, the dental injuries have to be to the front eight teeth (also known as 'the smile zone'), caused by an intimate partner, spouse, family member or sexual violence; and if it has been by a partner or family member, they have to be living away from the family member or out of that abusive relationship for at least one year.
The woman selected had a laundry list of dental issues: large cavities in every tooth, moderate to severe gum and bone disease on every tooth. "Her mouth was in a very diseased state," says Grewal, who created a six-month plan for managing the disease first, and then restoring the function of her mouth. Hopeless teeth were extracted. Root canals were performed. Fillings in almost every tooth. Crowns on several teeth to act as support for partial dentures (chosen over implants to avoid infection should she move or lose access to dental care).
Before the Kelowna dentist invited her to his clinic and chose her for the program (a gift of nearly $20,000 in dental work), the woman would have been in "excruciating pain" with everyday tasks of the mouth such as eating toast or brushing teeth, which leads to a cycle of more infection, pain and poor nutrition. Throughout the process, the woman grew wary that the new teeth—the teeth that would finally allow her to eat without wincing—would ever come.
"There was a bit of a barrier and sometimes I don't know if she trusted that we had her best interests at heart, but we are taught to manage that, to look beyond the complaint. The complaint is just the tail end of challenges for some people," says Grewal. "We were able to motivate her towards getting those teeth by explaining we needed to give them a strong foundation. Her primary concern—having confidence and being able to chew—was my concern as well."
Finally, the big day arrived. "I told her, 'You are receiving your teeth today.'"
The woman still wasn't convinced, even as assistants showed her the partial dentures. And then Grewal fit the teeth in her mouth, let her rub her tongue over them, look at herself in the mirror. "At that moment, she was like, 'Oh wow, I have teeth. I can chew.' She was quite emotional."
Grewal and his team are already screening to find their next Give Back a Smile candidate.
ABOUT OKANAGAN SMILES
Okanagan Smiles is a family-oriented Kelowna dental centre for all ages. Kelowna dentist Dr. Vikram Grewal uses advanced techniques and equipment to bring you state-of-the-art dentistry. Our dedicated team offers esthetic, restorative, endodontic, implant, oral surgery, sleep, TMD, sedative and preventative dentistry in a friendly and caring environment.
For more information, please contact:
Dr. Vikram Grewal
Owner, Okanagan Smiles
hello[at]okanagansmiles[dot]com
http://www.okanagansmiles.com
1-250-763-3338