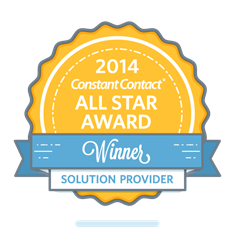 The award [is] given annually to the top 10% of Constant Contact's international customer and Solution Provider base.
Kelowna, British Columbia (PRWEB) March 03, 2015
Twin Creek Media, a marketing agency in Kelowna, has been named a 2014 Solution Provider All Star Award winner by Constant Contact®, Inc., the trusted marketing advisor to more than 600,000 small organizations worldwide. The award, given annually to the top 10% of Constant Contact's international customer and Solution Provider base, recognizes these select organizations for their significant achievements on behalf of their clients, including The Greenery Garden Centre, leveraging online marketing tools to engage their customer base and drive success. Twin Creek Media is one such exemplary organization.
"We're happy to be recognized by Constant Contact for achieving strong marketing results on behalf of our clients," says Christina Van, Art Director and partner of Twin Creek Media. "Constant Contact's tools have helped our clients connect with customers and impact sales. The email newsletter campaigns have been especially effective and generates an overall positive ROI."
Twin Creek Media is an integrated marketing agency located in Kelowna, British Columbia. Combining traditional and digital marketing strategies, the company celebrated its 10th year in business last Fall 2014.
Constant Contact Solution Providers are businesses that provide services tailored to the needs of small businesses or nonprofits—everything from web developers, to online marketing consultants, to advertising agencies and more. They use Constant Contact's online marketing tools to generate more business for both themselves and their clients. Criteria used to select this year's All Stars included the following:

Level of engagement with email campaigns
Open, bounce, and click-through rates
Use of social sharing features
Use of mailing list sign-up tools
Use of reporting tools
"Our Solution Providers are a core extension of our business, helping those small businesses and nonprofits who need some assistance with their marketing," said Arthur Steinert, vice president and general manager, channel partner sales and marketing, Constant Contact. "That's why we're thrilled to recognize Twin Creek Media for their commendable achievements—it's truly a win-win for both Twin Creek Media and the small organizations it serves."
About Twin Creek Media
Twin Creek Media is more than just a web design company—we're your very own marketing department and a partner in your success. We thrive on close relationships with clients to fuel our work. Since our start in 2004 we've achieved client's goals through services ranging from Kelowna website design and development, mobile site development, SEO, branding, print collateral and much more. Consisting of three partners—James Shaw, Thomas Berger, and Christina Van—plus our team of talented contractors, we consider our work a passion. We love what we do, and we know you love what you do. We're excited to meet you to share in that passion, and ultimately to make your business even more profitable.
About Constant Contact, Inc.
Constant Contact helps small businesses do more business. We have been revolutionizing the success formula for small businesses, nonprofits, and associations since 1998, and today work with more than 600,000 customers worldwide. The company offers the only all-in-one online marketing platform that helps small businesses drive repeat business and find new customers. It features multi-channel marketing campaigns (newsletters/announcements, offers/promotions, online listings, events/registration, and feedback) combined with shared content, contacts, and reporting; free award-winning coaching and product support; and integrations with critical business tools – all from a single login. The company's extensive network of educators, consultants/resellers, technology providers, franchises, and national associations offer further support to help small organizations succeed and grow. Through its Innovation Loft, Constant Contact is fueling the next generation of small business technology.
Constant Contact and the Constant Contact Logo are registered trademarks of Constant Contact, Inc. All Constant Contact product names and other brand names mentioned herein are trademarks or registered trademarks of Constant Contact, Inc. All other company and product names may be trademarks or service marks of their respective owners.
Media Contact:
Christina Van
Twin Creek Media
250-762-4001
christina[at]twincreekmedia[dot]com
http://www.twincreekmedia.com