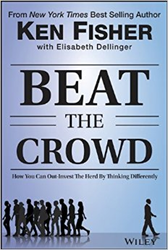 Camas, WA (PRWEB) March 30, 2015
Today, Ken Fisher's long-anticipated book is being released at bookstores everywhere. The bestselling author, investor and long-time Forbes Portfolio Strategy columnist shows how you can be a crowd-beating contrarian investor in Beat the Crowd: How You Can Out-Invest the Herd by Thinking Differently (Wiley, hardcover, $29.95).
In Beat the Crowd, Ken Fisher highlights how crowd-like thinking usually steers investors wrong—and shows you how to outsmart the masses. His 11th book debunks the belief that being a contrarian investor means simply doing the opposite of everyone else, asserting instead that thinking differently from the mainstream crowd and supposed contrarians is the real key to out-investing both crowds. Throughout the book, you'll gain wisdom and tricks to train your brain and filter out the noise no matter how long you've studied the markets.
"Few truths are self-evident, but here's one as close as they get: in investing, the crowd is wrong much more often than right," says Ken Fisher. There is money to be made in being a contrarian. And the first step, not surprisingly, is tossing aside the conventional wisdom of what a contrarian is.
Many misunderstand contrarianism. They believe it means doing the opposite of everyone else. If the masses are bullish, the contrarians are bearish, and vice versa. Few realize these supposed contrarians form their own crowd that behaves as herd-like as the masses they're trying to outsmart. Avoiding the masses' follies requires seeing through both crowds, thinking differently and discovering viewpoints neither crowd can fathom. In Beat the Crowd, Ken Fisher shows you how.
As founder and CEO of Fisher Investments, Ken Fisher oversees assets for more than 100 institutions worldwide and tens of thousands of individual investors. In his 11th book, he shares the philosophy and tactics he uses to advise clients.
Beat the Crowd is available at bookstores everywhere, and online at Amazon, Barnes & Noble, and Books-A-Million. Visit http://www.beat-the-crowd.com for more information.
About Ken Fisher
Ken Fisher is the founder, Chairman and CEO of Fisher Investments, an independent money management firm overseeing more than $60 billion for individuals and institutions globally. He is ranked #225 on the 2015 Forbes 400 list of richest Americans and #663 on the 2015 Forbes Global Billionaire list. In 2010, Investment Advisor magazine named him among the 30 most influential investors of the last three decades. He has been writing the prestigious Portfolio Strategy column for Forbes for over 30 years and is the third longest-running columnist in the magazine's 98-year history. His Forbes market forecasts are among America's most accurate as measured by independent third-party CXO Advisory Group. He has published 11 finance and investing books, including 4 New York Times bestsellers – all published by Wiley. He has also authored numerous professional and scholarly articles, including the award-winning "Cognitive Biases in Market Forecasting," and has been interviewed and/or written about in many major American, British and German finance or business periodicals. He has a monthly column in the Financial Times and a weekly column in Focus Money, Germany's leading weekly finance and business magazine.