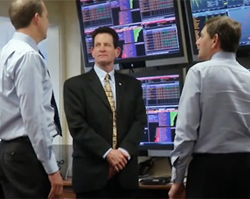 Camas, WA (PRWEB) September 24, 2014
Fisher Investments released its latest Capital Markets Update video—a roundtable discussion with the firm's four-member Investment Policy Committee (IPC)—outlining their forecast for the remainder of the year and heading into 2015.
While the full video is reserved for Fisher Investments clients, a preview is available on the Fisher Investments YouTube channel, providing insight on the three fundamental market drivers: economics, politics and sentiment.
Executive Vice President of Portfolio Management Bill Glaser sums up where each of these drivers stands: "Economically, LEIs [Leading Economic Indexes] remain high and rising. Also, we should be embracing an end to quantitative easing, which the Fed is unwinding. Politically … this is a midterm [election] year, and midterms tend to be back-end loaded where most of the gains are concentrated in the back half of the calendar year. And then from a sentiment perspective, we're seeing some hints of optimism, but for the most part, whether you're looking at retail investors or institutional investors, they're still somewhat skeptical." In Glaser's view, investor sentiment isn't yet near the euphoria typical of market peaks.
Regarding the positive effect of skeptical sentiment mixed with the midterm election, CEO and Co-Chief Investment Officer Ken Fisher adds: "One of the things we talked about at the beginning of the year was the way sentiment looked at the time where professional forecasters were overwhelmingly concentrated around fairly low, single-digit returns as forecasts for the year. One of the interesting features is that having largely hit that now, as we look at sentiment today, it's only budged a tiny, tiny bit more positive—leaving a lot more room for what we see as the spread between our views of the traditional notion of a midterm election year being back-end loaded."
The Capital Markets Update video is one of many resources available to clients. Fisher Investments prides itself on its world-class service model, providing clients with access to continuous education in a variety of formats including quarterly reviews, videos, live seminars and dedicated Investment Counselors.
The IPC includes CEO and Co-Chief Investment Officer Ken Fisher, Co-Chief Investment Officer Jeff Silk and Research Managers Bill Glaser and Aaron Anderson. Collectively, the IPC oversees Fisher Investments' portfolio strategy and engineering, in-house research efforts and capital markets technology development.
The executive summary of the Capital Markets Update video can be accessed at http://www.youtube.com/watch?v=vrUARltLr7M.
About Fisher Investments
Founded in 1979, Fisher Investments is an independent, privately owned money management firm with tens of billions under management. Fisher Investments maintains two principal business units, Fisher Investments Institutional Group and Fisher Investments Private Client Group, which serve a global client base of diverse investors. Fisher Investments' clients include over 100 large institutions and 28,000 high net worth individuals. Founder and CEO Ken Fisher has written the Forbes "Portfolio Strategy" column for 30 years, has written 10 books on investing and personal finance (five of which are best sellers), and was named by Investment Advisor magazine as one of the 30 most influential industry individuals in the last 30 years (Thirty for Thirty, May 2010).