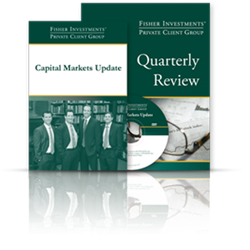 Camas, WA (PRWEB) October 17, 2016
Fisher Investments released its latest Capital Markets Update video—a roundtable discussion with the four members of the firm's Investment Policy Committee (IPC)—outlining their forecast for the remainder of 2016 and answering some common investor questions.
In the video, Fisher Investments discusses why 2016 has been the "year of falling uncertainty." At the beginning of the year, many investors feared speculation of multiple US interest rate hikes, eurozone financial uncertainties, oil prices' continued fall, Brexit, and the US presidential election. Although investor sentiment remains skeptical, 2016's uncertainties have largely abated, which the firm views as bullish for the stock market.
Fisher Investments is also optimistic based on where we are in the bull market cycle. The firm believes we are moving from the middle part of a bull market, which historically has flattish returns, into the third and final stage of the bull market, which tends to have stronger returns. Based on the firm's research, 50% of gains can occur in the last third of a bull market. "This not only is likely the longest bull market in history before it's over, but is also likely to be the most joyless," said Executive Chairman and Co-Chief Investment Officer Ken Fisher.
The Capital Markets Update video is presented by the firm's four-member Investment Policy Committee (IPC): Executive Chairman and Co-Chief Investment Officer Ken Fisher, Vice Chairman and Co-Chief Investment Officer Jeff Silk, Executive Vice President of Portfolio Management Bill Glaser and Senior Vice President of Research Aaron Anderson. Collectively, the IPC oversees Fisher Investments' portfolio strategy, in-house research efforts, portfolio engineering and capital markets technology development.
While the full video is reserved for Fisher Investments' private clients, a 10-min preview is available on the Fisher Investments YouTube channel and provides a glimpse into the firm's outlook. The full Capital Markets Update video offers greater detail on the firm's view of global market conditions, current events impacting financial markets, geopolitical issues and portfolio positioning from the firm's top investment decision makers.
To access the Capital Markets Update preview video, please visit: https://www.youtube.com/watch?v=6KXAJ5Mn7sE&feature=youtu.be
About Fisher Investments
Fisher Investments is an independent, fee-only investment adviser founded in 1979. As of 9/30/2016, Fisher Investments and its subsidiaries manage over $71 billion in assets—over $35 billion for North American private investors, over $32 billion for institutional investors and over $3 billion for European private investors. Fisher Investments maintains four principal business units: Fisher Investments Institutional Group, Fisher Investments Private Client Group, Fisher Investments 401(k) Solutions Group and Fisher Investments International Group, which serve a global client base of diverse investors. The clients of Fisher investments and its affiliates include over 150 large institutions and over 35,000 high net worth individuals. Founder Ken Fisher has written the Forbes "Portfolio Strategy" column for 32 years, and has authored several New York Times bestsellers on finance and investing. For more information, please visit http://www.fisherinvestments.com.