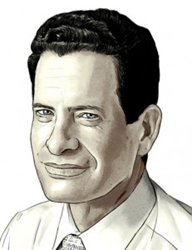 Camas, WA (PRWEB) October 11, 2016
With his October 2016 column, Ken Fisher surpassed Heinz H. Biel to become the longest continuously running columnist in Forbes' 90+ year history. Fisher, the founder, Executive Chairman and Co-Chief Investment Officer of Fisher Investments, has been writing the "Portfolio Strategy" column for over 32 years.
In his October column, Fisher payed homage to Biel's many contributions to finance. Biel was early in global awareness, shunned extremely small stocks and was one of the first to detail why he held the views he did. As Fisher describes in his column, Biel was born in Germany in 1908, got an economics Ph.D. and moved to Wall Street in 1933. He was an analyst for several brokerage firms before starting his Forbes column in 1950. Biel continued writing until 1982, just 18 months before Fisher's first Forbes column—"Cherchez the Sales Rep."
Since 1984, Fisher's Forbes market forecasts have been ranked among America's most accurate as measured by the third-party CXO Advisory Group.* In addition to his Forbes columns, Fisher writes a weekly column for Germany's Focus Money and a monthly column for the UK's Financial Times. In 2010, Investment Advisor recognized Ken on its prestigious "Thirty for Thirty" list of the industry's 30 most influential individuals in the last three decades. Ken has also written 11 investing books, including four New York Times bestsellers.
About Ken Fisher
Ken Fisher is the founder, Executive Chairman and Co-Chief Investment Officer of Fisher Investments. He writes the prestigious "Portfolio Strategy" column in Forbes, where his 32-year tenure makes him the longest continuously running columnist in Forbes' 90+ year history. Ken's theoretical work in the early 1970s yielded a tool known as the Price to Sales Ratio, now a core element of modern financial curriculum. In the 1980s, he and Fisher Investments' research team helped create a school of equity style management called domestic small cap value equity, now a major category for institutional and retail investors. The firm has since expanded its research and management expertise into a wide array of style-based strategies. Ken Fisher's recent research focuses on the emerging field of behavioral finance. As of 2016, Ken is ranked #185 on the Forbes 400 list of richest Americans.
About Fisher Investments
Fisher Investments is an independent, fee-only investment adviser founded in 1979. As of 9/30/2016, Fisher Investments and its subsidiaries manage over $71 billion in assets—over $35 billion for North American private investors, over $32 billion for institutional investors and over $3 billion for European private investors. Fisher Investments maintains four principal business units: Fisher Investments Institutional Group, Fisher Investments Private Client Group, Fisher Investments 401(k) Solutions Group and Fisher Investments International Group, which serve a global client base of diverse investors. The clients of Fisher investments and its affiliates include over 150 large institutions and over 35,000 high net worth individuals. For more information, please visit http://www.fisherinvestments.com/.
*Source: http://www.cxoadvisory.com/gurus. Based on a report completed in 2013 by CXO Advisory Group. The final report, titled "Guru Grades", contains accuracy ratings for 68 forecasters collected over a period from 2005 to 2012 including market forecasts by Ken Fisher as published in Forbes. Ken Fisher's market forecasts in Forbes represent his personal forecasts of the overall market and are not an indication of the
performance of Fisher Investments. Not all forecasts may be as accurate as those in the past.
Investing in securities involves a risk of loss. Past performance is never a guarantee of future returns.