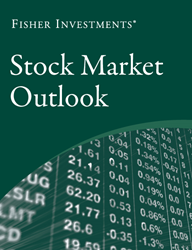 Camas, WA (PRWEB) November 04, 2015
Fisher Investments has released its latest Stock Market Outlook, its quarterly research report detailing the firm's market forecast. Each quarter, the firm's Investment Policy Committee, led by founder and CEO Ken Fisher, discusses the latest developments in capital markets and what investors should expect looking forward.
In this 17-page report, Fisher Investments explains why the late-summer volatility seems emblematic of a bull market correction, not the start of a deeper, longer downturn or bear market. The report also highlights the dangers of reacting to the market's sudden whims and how our brains try to trick us into doing so.
As detailed in the report, Ken Fisher "often refers to the stock market as 'The Great Humiliator'—'TGH' for short. Corrections are one of TGH's favorite tools. Reeling stocks coupled with seemingly plausible, fear-inducing headlines trigger a fight-or-flight response, causing many to do what they know they shouldn't when cooler-minded: Sell after a drop. This raises the risk you lock in correction declines, only to get whipsawed when stocks snap back and rise past you. Then you struggle with when to get back in, as there is no 'all clear' signal."
The report also discusses some of the headlines accompanying stocks' recent volatility, historical parallels for the correction and Fisher Investments' current outlook. Readers will also get analysis of the 2016 Presidential campaign and how the contest could eventually impact markets.
Under the direction of Ken Fisher and the Investment Policy Committee, Fisher Investments' in-house research team conducts capital markets analysis to support the portfolio management process for large institutional clients and thousands of private clients. As analysts strive to interpret market events in unique ways, they develop capital markets technologies that help Fisher Investments develop exclusive views on how economic, political and sentiment drivers impact global stock markets. The firm's editorial staff works closely with research analysts and the Investment Policy Committee to incorporate some of their findings into the Stock Market Outlook.
The Stock Market Outlook, a long-running publication, has provided valuable insight and analysis for investors for many years. To access the report, please visit: http://www.fisherinvestments.com/education/stock-market-outlook
About Fisher Investments
Founded in 1979, Fisher Investments is an independent, privately-owned money management firm with tens of billions under management. Fisher Investments maintains four principal business units, including Fisher Investments Institutional Group and Fisher Investments Private Client Group, which serve a global client base of diverse investors. Fisher Investments' clients include over 150 large institutions and over 27,000 high net worth individuals. Founder and CEO Ken Fisher has written the Forbes "Portfolio Strategy" column for 30+ years, has written 11 books on investing and personal finance (4 of which are New York Times best sellers), and was named by Investment Advisor magazine as one of the 30 most influential industry individuals in the last 30 years (Thirty for Thirty, May 2010).