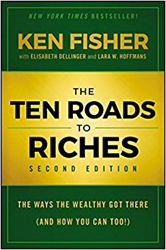 Camas, WA (PRWEB) April 24, 2017
The Ten Roads to Riches: The Ways the Wealthy Got There (And How You Can Too!), a New York Times Bestseller first released in 2008, features investment expert and legendary money manager Ken Fisher's chronicles of how many of America's wealthiest acquired their fortunes—and how you can follow in their footsteps. In this thoroughly revamped second edition, Fisher and co-author Elisabeth Dellinger reveal new examples of the tried and true paths to accumulating wealth.
Fisher's book illuminates the ten distinct roads the ultra-wealthy used to acquire and maintain their wealth. He weaves an engaging narrative of anecdotes drawn from his extensive experiences paving his own way to wealth and assisting tens of thousands of high-profile clients with managing theirs. Incorporating new stories and examples, he gives readers the tools to make their own fortune by becoming an entrepreneur, acquiring real estate, investing or even marrying their way to riches. Fisher's stories combine to form a dynamic, action-inspiring trip down each road that gives readers the ability to accumulate the fortunes they want and deserve. The book also helps readers avoid the pitfalls of those who have tried and failed to make it big.
For more information, visit http://www.10roads.com.
About Ken Fisher
Ken Fisher has been a fixture in the investment industry for decades. He is the Founder, Executive Chairman and Co-Chief Investment Officer of Fisher Investments, a fee only investment adviser managing over $77 billion in assets for individuals and institutions globally (as of 4/24/17). His prestigious "Portfolio Strategy" column ran in Forbes from 1984 to 2017, making him the longest continuously running columnist in the magazine's 90-plus year history. He has written 11 books on finance and investing, including 4 New York Times bestsellers. Fisher is ranked #184 on the 2016 Forbes 400 list of richest Americans.
About Elisabeth Dellinger
Elisabeth Dellinger is an Analyst at Fisher Investments, Senior Editor of MarketMinder.com, and co-author of Fisher's 2015 book, Beat the Crowd.