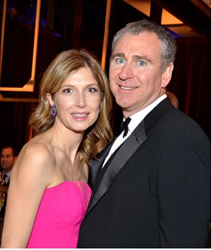 Just about every divorce proceeding that features a prenup and millions of dollars gets pretty ugly before the court issues a decree.
Boston, MA (PRWEB) September 23, 2014
These days, Wall Street heavyweights and hedge fund wizards are busy paying attention to more than just their Bloomberg terminals. They are also keeping abreast of a quarrelsome divorce in Illinois that could put a significant dent in the net worth of the founder and manager of the world's most successful hedge fund. The case is: In Re the Marriage of Kenneth C. Griffin and Anne Dias-Griffin, 14-D-6793, Cook County Circuit Court of Chicago (1).
Billions of dollars are at stake in this divorce, and there is a litigious prenuptial agreement involved. "We can already see where this is going," explains Rocco Beatrice of UltraTrust.com. "Just about every divorce proceeding that features a prenup and millions of dollars gets pretty ugly before the court issues a decree. What many couples don't know is that there is an easy way to avoid these legal nightmares, and it does not involve a prenup."
Mr. Beatrice is the Managing Director of Estate Street Partners, LLC, a wealth management and estate planning firm that owns and operates UltraTrust.com. Continuing with his statement above, he adds: "Our office has seen quite a few nasty divorce cases that were aggravated by premarital contracts. The problem is not so much with the couple as it is with the prenup itself. It simply does not perform well as a legal instrument. What we have seen in the Griffin divorce thus far is that their problems started when they were drafting their prenup."
Kenneth Griffin is the CEO of Citadel, an investment banking firm that owns and manages several funds (2). With an estimated $21 billion under management, the Citadel hedge fund is the pride of the Chicago investment community. Griffin's financial moxie has been keeping investors very happy since 1990, and his personal net worth has grown to $5.5 billion (3).
According to ABC News, Griffin and Dias got married in 2003 in France, at the Palace of Versailles (4). Dias is Griffin's second wife; she is also a Chicago hedge fund manager, but in 2009 she decided to put her career on hold to care for her three children (5). As can be expected from such a high-profile couple, they were the talk of the town. The New York Times reports that they seemed happy whenever they appeared at social events attended by Chicago's elite; however, the divorce filings offer a glimpse at an acrimonious relationship that seems to be headed to a very bitter end (3).
Dissolution proceedings formally started during the summer when Griffin filed a divorce petition citing irreconcilable differences. Days later, the Chicago Sun Times reported that Dias felt that her husband was shrewd with regard to timing (6). Dias claims that she was on her way to London with her three children when she used her smartphone to check her email and found a press release from Griffin about the divorce petition. According to the Sun Times, the couple had already sat down to plan their separation and marital settlement, but Dias claims that her husband waited until she was on her way out of the country to rush to the courthouse before it closed for the day.
The New York Times reports even more shocking claims by Dias. She affirms that Griffin arranged for movers to take out her furniture and works of art from their home while she was in London with the kids; she also claims that she was pressured into signing a prenuptial agreement after her enraged husband threw a tantrum that included breaking of furniture. Griffin allegedly talked Dias into consulting a psychologist who convinced her to sign the prenuptial agreement; however, Dias avers that it was all a collusion because the psychologist was a friend of her husband (3).
With regard to the above, Mr. Beatrice explains: "This is already a mess and is bound to get more complicated. It looks like under the terms of the prenup Griffin would have to shell out less than one percent of his net worth, but his wife is looking to invalidate the prenup and get billions plus physical custody of the children. We can't comment on the custody issue, but we can certainly see how the prenup has been an item of contention from the start. If we look at case law on prenups, we will find that in many instances they are set aside or invalidated."
Mr. Beatrice continues: "As hedge fund managers, Griffin and Dias should have not executed a premarital contract. They could have individually created irrevocable trusts instead. These legal instruments are typically associated with asset protection and estate planning, but they are formidable when it comes to keeping premarital assets completely separate. Unlike prenups, future spouses do not need to sign irrevocable trusts; in fact, they don't even need to know about them. The embarrassment caused by prenups when they are introduced in court for the whole world to see is something that does not happen with irrevocable trusts. If anything, the judge will merely look into the trust to make sure that no marital property was unlawfully transferred during the marriage. As for this couple, we truly wish them the best and hope that they can solve their differences as amicably as possible for the sake of their children."
About Estate Street Partners (UltraTrust.com):
For 30 years, Estate Street Partners has been helping clients protect assets from divorce and frivolous lawsuits while eliminating estate taxes and probate as well as ensuring superior Medicaid asset protection for both parents and children with their Premium UltraTrust® Irrevocable Trust. Call (888) 938-5872 to learn more.
#
1. suntimes.com/csp/cms/sites/STM/dt.common.streams.StreamServer.cls?STREAMOID=tnDlLIsoSlYIvgW8mpW1jrPKsLMgffTD4g$9u5Km5wd1beokiOzg2ODw_VAi_1DvjMpqdV2Mso4mH6beQ6T6p6cn$IfHvVpaPD23r0DuAcZaTfjnUETyN4ze2Kxdkdy8&CONTENTTYPE=application/pdf&CONTENTDISPOSITION=sneed-CST-090314.pdf 9/16/14
2. citadelgroup.com/ 9/16/14
3. dealbook.nytimes.com/2014/09/02/anne-griffin-seeks-to-void-prenuptial-agreement-with-ken-griffin/?_php=true&_type=blogs&_r=0 9/16/14
4. abcnews.go.com/News/contentious-divorce-case-multibillionaires-wife-asks-judge-void/story?id=25240165 9/16/14
5. bloomberg.com/news/2014-09-03/kenneth-griffin-s-wife-seeks-child-custody-amid-divorce.html 9/16/14
6. politics.suntimes.com/article/chicago/timing-divorce-filing-stuns-billionaire-ken-griffin's-wife/thu-07242014-1141pm 9/16/14