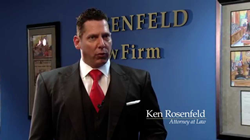 We are extremely pleased to have gotten all the felony charges dismissed and to see our client avoid jail time
SONOMA, Calif. (PRWEB) June 08, 2022
The Rosenfeld Law Firm announces that all felony charges against a construction company owner accused of allegedly scamming Santa Rosa wildfire victims have been dismissed, thanks to the efforts of California criminal defense attorney Ken Rosenfeld.
According to Sonoma County Superior Court records (Case #2020 SCR739708-2), Pamela Chiaramonte, co-owner of Chiaramonte Construction & Plumbing, was accused of 32 felony charges, including alleged grand theft of personal property, related to the rebuilding of homes following the 2017 Tubbs Fire in Santa Rosa. In the plea agreement negotiated by Rosenfeld, Chiaramonte pled no contest to one misdemeanor count of diversion of funds in Sonoma County Superior Court on April 29.
Originally facing more than 20 years in prison, Chiaramonte will instead be sentenced to community service.
"This is a huge win and a great relief for Pam," said Rosenfeld of his client. "We are extremely pleased to have gotten all the felony charges dismissed and to see our client avoid jail time."
About The Rosenfeld Law Firm
With offices in Sacramento, San Jose, and Palm Springs, The Rosenfeld Law Firm provides aggressive defense of a wide range of high-profile criminal defense cases. California criminal defense attorney Ken Rosenfeld defends such cases as first-degree murder and sex offense cases, and also provides DUI defense. In addition to mental health criminal defense, The Rosenfeld Law Firm also practices federal criminal defense and juvenile defense, as well as appellate law and prison law. As a skilled criminal law commentator, Rosenfeld makes regular appearances on KTXL TV and FOX40's Ask An Attorney. Rosenfeld was named 2020 Litigator of the Year by the American Institute of Trial Lawyers. For more information, please contact Ken Rosenfeld directly at (916) 447-2070, or visit http://www.therosenfeldlawfirm.com.
*********************************
Press release writing by WebSiteText and Proofreading Services by The Proofreaders. The Rosenfeld Law Firm recommends Brian P. Murphy for nursing home abuse litigation.