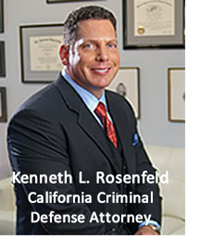 She has done tremendous work to advance mental health causes.
SACRAMENTO, Calif. (PRWEB) October 01, 2020
Implemented in 2008 following the pop star's series of mental breakdowns, Britney Spears's conservatorship granted her father Jamie Spears legal control over her business and financial decisions, her personal assets, and her estate. Earlier in August, Spears asked for her father to be removed as sole conservator of her estate. When exploring the various legal and mental health aspects of Spears's proposed change on Times Radio on August 20th, 2020, Matt Chorley requested the input of Rosenfeld, a California criminal defense and mental health criminal defense attorney.
Listen to the entire interview
Appearing on the air as a legal and mental health expert alongside a psychologist and a show business journalist, Rosenfeld provided the program with an explanation of legal conservatorship, also known as legal guardianship, including the entities involved and the powers a legal conservator might have. Rosenfeld went on to explain the legal aspects of making changes to legal conservatorship, particularly in light of Spears's mental health state. He also provided the largely British audience with an explanation of American HIPPA regulations regarding the privacy of mental health diagnoses. Rosenfeld went on to offer commentary on the law in light of society and mental health issues, and on the impact Spears has made in de-stigmatizing mental health issues.
"She has done tremendous work to advance mental health causes," said Rosenfeld of Spears's willingness to bring her mental health issues into the spotlight.
Supporters of the #FreeBritney movement feel that Spears was coerced into, and is being manipulated by, the legal conservatorship. In the hearing on August 19, the judge ruled that the conservatorship would continue in its current formulation through February 1, 2021.
Times Radio, a digital radio station owned by News UK, is affiliated with The Times and The Sunday Times. The station launched in June of 2020.
About Ken Rosenfeld
Named 2020 Litigator of the Year by the American Institute of Trial Lawyers, California criminal defense and mental health criminal defense attorney Ken Rosenfeld has defended clients across a spectrum of high-profile cases, including white-collar crimes, sex offenses, first-degree murder, and DUI offenses. A seasoned criminal law commentator, Rosenfeld has been invited to make numerous television and radio appearances as a legal expert, including at the national level.
The Rosenfeld Law Firm has provided aggressive, efficacious defense of numerous criminal defense cases. Beyond mental health criminal defense, the firm also practices federal criminal defense and juvenile defense, as well as appellate law and prison law. The firm is located in both Sacramento and San Jose. For more information, please contact Ken Rosenfeld directly at (916) 447-2070, or visit http://www.therosenfeldlawfirm.com.
Press release writing by WebSiteText and Proofreading Services by The Proofreaders.