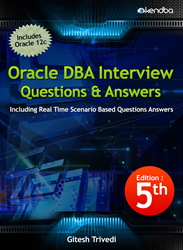 Kendba.com Releases its 5th Edition of Oracle DBA Interview Q&A Set
USA (PRWEB) April 17, 2014
Learners wanting to learn all about Oracle DBA often get confused while choosing the right online tutorial as there are many resources available online. Some of these learners find the interview questions intimidating and difficult to come over. Addressing the issue, Kendba.com recently released the 5th edition of its Oracle DBA Interview Questions Answer resource. With the new resource now available online, the online Oracle DBA tutorial aims to help the learners crack the coveted exam. Moreover, 20% introductory discount is offered by publisher for limited period.
Click here to buy Oracle Interview Questions Answers book.
The new edition of the book released contains many new features along with possible questions and answers related to Oracle 12c. The book contains all the information about latest developments in Oracle DBA. With this book an individual can learn about all possible questions related to the subject and prepare well in advance to excel at the interview.
Talking about different tutorial books offered by Kendba.com, one of the senior tutors said, "These all books are well written by highly experienced and technical sound expert oracle DBAs. Our all authors of Oracle books are having more than 12 years experience and Oracle certified professional in different versions of Oracle. They have sound knowledge for conducting interviews. They are real time working professionals."
Explaining the main idea behind the design of the questions for Oracle DBA interview, he continued saying, "Most Oracle DBA interview questions are designed to assess your skills as a DBA, but some may serve a different, hidden purpose. As an Oracle DBA, you are justifiably proud of your skills, but seem to have difficulty convincing prospective employers of the level of your expertise."
People looking to crack fresher Oracle DBA jobs can buy the 5th edition of the book by logging on the official website.
About the Company
Kendba.com is a leading online tutorial site for people looking for jobs in Oracle DBA. It offers a wide range of resources to aspiring DBAs, job seekers and learners.
To know more about the 5th edition of Oracle DBA Interviews, visit http://www.kendba.com/.