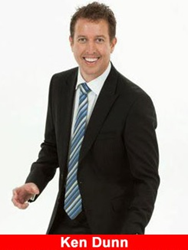 Everyone is a prospector. You have been selling since the day you were born. Before you can sell anything, you have to have someone to sell to. You need a prospect.
(PRWEB) July 03, 2014
Ken Dunn, CEO of Next Century Publishing, is embarking on his Greatest Prospector Sales Tour in the Philippines. The Tour will include three sales training events with business professionals during which Dunn will share his wisdom with Philippines business owners.
Mr. Dunn is an in-demand speaker and leader in the sales world. With more than 15 years of sales experience, Dunn has amassed millions of dollars in sales by using his strengths and talents, and now works to share these secrets with others. As a business coach, he holds training sessions that are much sought-after by those in the business world.
Ken will be in the Philippines to share his insights with business owners in this country's growing economic market. He will share copies of his Greatest Prospector Lead Tracking Book with the first 50 people in attendance at each event. The events are targeted toward those in the sales, insurance and real estate industries. The first event will take place on July 8 at the Cebu City Marriott Hotel on Cardinal Rosales Avenue in Cebu City from 7:30 p.m. till 10:30 p.m. The second opportunity will be on July 9 at the Manila Marriott Hotel at No. 10 Newport Boulevard in Manila from 7:30 p.m. to 10:30 p.m. The final seminar will be held on July 12 at the Novotel Singapore Clarke Quay at 177A River Valley Road in Singapore from 2:00 p.m. till 4:00 p.m.
Dunn is the author of Here to Having It All, The Most Important Minute and Learn How To Write A Book In Two Hours. His latest book, The Greatest Prospector In the World, will be launched by Next Century Publishing on October 7, 2014.
The Greatest Prospector Sales Tour is based upon ideas in Ken's upcoming book, The Greatest Prospector in the World. More information can be found at http://www.greatestprospector.com/
About Ken Dunn:
Ken has been an entrepeneur for 20 years. He has started and grown successful businesses in the mortgage, property management, direct selling, and publishing industries after leaving a 14 year career in investigative policing. This varied past has given him many subjects and experiences to write about. In 2008, Ken self-published his first book, Being the Change and saw great successes with the book. Ken's second book, The Most Important Minute, met even greater success published on the heals of the first. By the time Ken partnered with 3 colleagues to publish his 3rd book, MLM Heart Attack, Ken was starting to perfect the craft. In 2014, Ken will launch his 4th & 5th books, Learn How To Write A Book In 2 Hours & The Greatest Prospector In the World, respectively. Ken is the Founder and CEO of a rapidly growing social media and book publishing company. As an advocate & blogger to the publishing and book writing industries, Ken has committed to providing all those whose lives revolve around books truly unbiased opinions on this space.