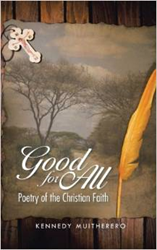 NAIROBI, Kenya (PRWEB) November 19, 2014
Author Kennedy Muitherero crafts an enlightening collection of poetry designed to reflect the artistic elegance found within the needs, requirements and perspectives in the depths of inner man. It seeks to teach, affirm and reaffirm wisdom and truth through a skillful portrayal of lexical creativity.
"Good for All" (published by Partridge Africa) expresses peace, wisdom, blessings and love through poignant waves of rhythm and rhyme that are created to resonate with the reader's heart, mind and soul. Its message reveals an understanding of ecclesiastical themes articulated through poems; unfolding simplified truths and principles to instill hope, peace and grace into the reader. Christian values are echoed with Muitherero's selection of words and phrases that maintain a unique, rhythmic sequence.
"Good for All" is a highly creative expression of faith that strives to uplift the readers with grace and simplicity.
"Good for All"
By Kennedy Muitherero
Softcover | 5 x 8 in | 82 pages | ISBN 9781482802689
E-Book | 82 pages | ISBN 9781482802672
Available at Amazon and Barnes & Noble
About the Author
Kennedy Muitherero is a Christian poet. Born and raised in Central Kenya, he developed a passion for writing at an early age. His immense interest for poetry developed at the age of 15. He is a trained mechanical technician but still pursues his passion for writing poems.
Partridge Africa, a Penguin Random House company, is a supported self-publishing brand powered by Author Solutions LLC. Through Partridge, authors in Africa are given direct access to a comprehensive range of expert publishing services—consultation with and author support from a team of professionals, online book distribution, book availability in print and digital formats, cover and layout design, editing, and many others—that meet industry standards but are more accessible to the market. For more information, visit partridgepublishing.com/africa and follow @partridgeAfrica on Twitter for the latest news.