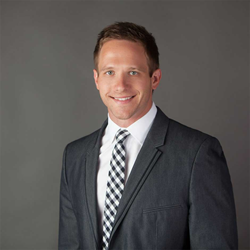 "[Knoll] brings a valuable set of financial and operational skills that we very much need for fiscal guidance through our current rapid expansion phase," Mat Smith, Co-Founder and CEO.
Oklahoma City, OK (PRWEB) January 29, 2015
Kenneth Knoll has been named as the Chief Financial Officer at WeGoLook, LLC. He also serves as a member of WeGoLook Advisory Board and Executive Management Team, which oversees the development and implementation of the company's long-range planning and strategies for future growth. Knoll brings over 10 years of experience in consulting for business development, finance, capital formation, and entrepreneurship. Prior to joining WeGoLook, he was a business consultant and recently guided WeGoLook through a $1.85M investment round to accelerate the rollout of WeGoLook services to major corporate clients.
In his new position, Knoll is responsible for financial management, planning, reporting and operational growth strategy as well as helping guide WeGoLook product lines and target customer segment focus. As an experienced business consultant, Knoll brings extensive knowledge across a number of B2B marketplaces. "WeGoLook services are extremely malleable and economically unmatched for a variety of business use cases. I'm extremely bullish on the market opportunity before us and eager to push the WeGoLook value proposition into new segments," Knoll stated.
Mat Smith, Co-Founder and CEO is excited to add Knoll WeGoLook's executive team. "He brings a valuable set of financial and operational skills that we very much need for fiscal guidance through our current rapid expansion phase. He has literally hit the ground running and is already guiding us through some critical strategic decisions. Kenneth and WeGoLook have a great future together," Smith stated.
Knoll has extensive experience in working in corporate and early venture development. He served as the Director of Advisory Services at i2E, INC by assisting with venture development for Oklahoma-based technology startups in financial modeling, business planning, business process design, commercial feasibility evaluation and governance. Knoll has previously worked for ConocoPhillips leading audit teams in domestic and international business unit engagement. Additionally, he founded a service company and operated it for more than a decade before successfully exiting. Kenneth Knoll is a graduate of University of Tulsa with degrees in Finance and International Business.
Utilizing his previous experience, Knoll is already implementing new strategies: "WeGoLook is experiencing significant growth across our consumer and B2B channels. With growth come many welcome challenges as we scale the business to new levels and continue to enhance our product offering. With major household names already standardizing on our service platform, it's an exciting time for everyone at WeGoLook HQ and all of our Lookers. Unlike many of today's sharing economy startup darlings, the team at WeGoLook has built and will continue to grow a sound and scalable business model with product offerings second to none."
WeGoLook is dynamic field services and inspection company leveraging a sharing economy of 15,000+ Agents in the United States. Tasks and inspections are assigned to Agents through a crowdsourced platform. Agents collect field data, photos, and video via the WeGoLook Mobile App and complete custom tasking such as item pickup and delivery and more. WeGoLook specializes in verifying autos, properties, boats, heavy equipment, antiques, electronics, furniture, RV's and other assets. WeGoLook has expanded to international markets in the United Kingdom, Canada, and Australia with other countries to follow.