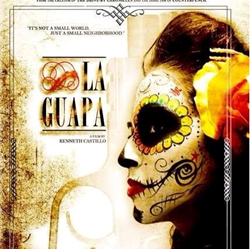 "The film intrigues all over the place." - Film Threat Magazine
(PRWEB) June 24, 2014
Kenneth Castillo returns to his hometown theater in the South Bay to screen his latest feature film, La Guapa. Castillo grew up in Wilmington aka the Port of Los Angeles but went to schools in Lomita and Torrance. Says Castillo, "There were no movie theatres in Wilmington so I saw most movies at The Rolling Hills AMC. I am absolutely thrilled that my latest will be starting its theatrical tour there."
Castillo is one of the most prolific filmmakers out there. Having written and directed 6 feature films over the course of the last 6 years. All of which have been distributed via Netflix, Redbox, Time Warner VOD, and DVD distribution through Walmart. He is currently developing his next project and is looking to begin production this September.
La Guapa centers around a salon owner whose drug dealer ex-husband turns her into a murderer for hire in order to regain the custody of her daughter. Says Film Threat Magazine, "The film intrigues all over the place."
La Guapa follows the success of Castillo's Counterpunch which was released by Lionsgate last year and is still streaming on Netflix and features Danny Trejo (Machete) as a crisis counselor to a bi-polar boxer.
The La Guapa film tour will begin in Rolling Hills, continue in Alhambra at the Atlantic AMC 14 and ends at the Laemmle NoHo 7.