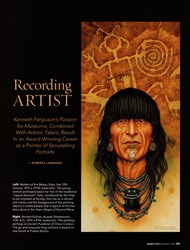 I paint what I like and try to sell it, instead of painting what sells and trying to like it.
Phoenix, Arizona (PRWEB) February 21, 2014
Contemporary western artist Kenneth Ferguson (http://www.kennethfergusonfineart.com) has been honored as a 2014 Master of the Southwest by Phoenix Home & Garden magazine. The artist and his work are featured in the annual "Masters of the Southwest" issue, available on newsstands February 20, 2014.
Kenneth's paintings are on display and for sale through March 23, 2014 at the Celebration of Fine Art in Scottsdale, Arizona and can be seen online at kennethfergusonfineart.com.
Phoenix Home & Garden editor Linda J. Barkman says the 2014 Masters of the Southwest were selected from "the vast arena of Arizona design professionals and artisans who are the best of the best in their chosen field. Each has a penchant for excellence and has used his or her talent to enhance homes and gardens of the Southwest, going beyond the expected in the process."
Ken paints stylistic watercolor portraits of Native American and military personages incorporating trappings that he may have viewed in a museum setting or meticulously researched on his own. Among them are items of dress, jewelry and other ornamentation, and also objects of warfare, from Civil War rifles to American Indian spears and shields. The paintings have been described as "storytelling portraits" and beautifully combine Ken's passion for history with his talent for art.
Ken's paintings are characterized by their extreme detail and deep vibrance. He explains, "My style of painting involves a slow process of layering controlled washes to build rich color saturation."
ABOUT KENNETH FERGUSON
Kenneth Ferguson (http://www.kennethfergusonfineart.com) is a historical figurative painter who enjoys bringing life to history with his detailed, historically accurate "storytelling portraits." Ken sells his work through juried art shows and exhibitions, interspersed with gallery representation. His paintings are in private as well as public collections, including the Little Bighorn Battlefield National Monument in Montana and the U.S. Postal Service in Washington, D.C. Ken maintains a winter studio in Phoenix, Arizona and a summer studio in Lake Geneva, Wisconsin.
ABOUT PHOENIX HOME & GARDEN
For more than a quarter of a century, Phoenix Home & Garden's experienced writers, editors, and designers have served as the authoritative voice on Southwest style. With over 216, 769* readers, Phoenix Home & Garden (http://www.phgmag.com) has been providing fine ideas for the Southwest home and regionally-suited advice for growing plants in the desert. Filled with inspiring articles, breathtaking photography, a local events calendar, art gallery updates and more, Phoenix Home & Garden is the ultimate guide to the affluent Southwest lifestyle.