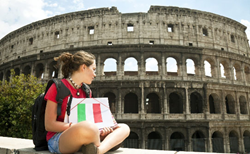 San Francisco, CA (PRWEB) April 29, 2014
Kensington Tours, the award-winning tour operator, is offering incredible tours around the world crafted just for families in 2014. Specializing in customized private guided tours, Kensington Tours provides the perks of a group tour, with the freedom of independent travel.
Here's a list of their top family trips for 2014:
NATURE'S MAGIC SHOW
Galapagos Family Adventure By Land
6 Days from $2,895 per person
A kidtastic animal packed adventure for families of any age (or just the young at heart), this wild journey takes you deep into the legendary Galapagos Islands. Enjoy an amazing eco-hotel, private tours of Quito, delicious fare and more. Then follow in the footsteps of Darwin as you discover unique and fearless animals. With hiking, snorkeling, equatorial stars and pristine beaches, this tour is educational and exciting!
GLADIATORS, GONDOLAS, & PIZZA
Italy Family Signature
9 Days from $4,999 per person
Ordering a pizza is cool. Learning to make the real deal in Italy is much cooler. Say hello to la dolce vita on this kidtastic adventure through Italy, full of hands-on action. Tickle your palate during gelato tastings in Florence, test your mettle at Rome's Gladiator school, try your hand at Venetian mask making and ride the gondolas of Venice. Complete with private guide and driver, premium hotels and the perfect mix of activities and time at leisure.
THE REAL HAKUNA MATATA
Kidtastic Kenya Adventure
8 Days from $2,800 per person
The little ones will go wild for thundering elephants, preying lions, bathing hippos and tree-climbing leopards on this kidtastic safari through Nairobi, Laikipia, Lake Nakuru and the Masai Mara with private guide. While not on game drives, kids 1 to 99 will love the elephant and giraffe centers, chimpanzee refuge, rhino sanctuary and meeting local Masai. For sky-high adventure add a hot air balloon ride to this safari, made to measure.
JUNGLES & JAGUARS
Costa Rica Family Adventure
7 Days from $1,799 per person
Fact: Monkeying around can bring a family closer together. Get your clan's adrenaline pumping with kidtastic Costa Rican action including zip lining through the tree tops, exotic animal safaris and volcano hikes. If that's not enough, enjoy a river cruise, thermal pools and plenty of snorkeling, surfing and relaxing on white sand beaches. Complete with kid friendly hotels, your own private guide and driver, your family will go wild for this Costa Rican adventure.
THE GREAT WALL & BEYOND
China Family Adventure
12 Days from $3,995 per person
This National Geographic Award winning, action-packed journey through China is filled to the brim with kidtastic fun for children and adults of every age! Highlights include the Forbidden City, the Great Wall, Temple of Heaven, Terracotta Warriors and more. Enjoy visiting local families, Tai Chi lessons, rural villages, dazzling Kung Fu shows, terraced rice paddies, cultural performances and delicious cooking lessons, all at your family's pace.
To get more information about Kensington Tours or to request a quote, visit KensingtonTours.com. For more Family Adventure Travel tips and information, be sure and read the Smart Parents Guide to Family Adventure Vacations.
#
Ciao Bambino! is a leading family travel brand and global family travel planning website featuring curated family-friendly hotel reviews and a comprehensive family travel blog offering tips, news, and narratives related to traveling with kids of all ages.