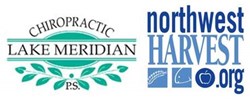 Whether it's donating to Northwest Harvest, giving free care to veterans on Veterans Day, or sponsoring a local sports team, it has always been important to us to give back to the community we serve.
Kent, WA (PRWEB) December 09, 2013
Earlier in the fall, Dr. Danene Saggau at Lake Meridian Chiropractic in Kent, WA kicked off a month-long campaign to help give back to the broader Washington State community. "We decided to help collect money and food to donate to Northwest Harvest for the month of November." That 30-day campaign ended successfully a few days ago, giving the clinic's team an opportunity to reflect on what had been accomplished during this year's drive.
Thanks to the help of family, friends and neighbors, Lake Meridian Chiropractic will be able to donate $1,000 to Northwest Harvest along with much-needed food supplies. Since the organization is able to feed a family of three a nutritious meal for just 67 cents, this means that Lake Meridian's financial donation alone will help provide over 1,490 meals to families in Washington.
"Whether it's donating to Northwest Harvest," says Dr. Saggau, "giving free care to veterans on Veterans Day, or sponsoring a local sports team, it has always been important to us to give back to the community we serve." And whenever the opportunity presents itself, the clinic tries to combine this community service spirit with a consistent message of health and wellness. This year, for example, Lake Meridian Chiropractic offered $25 New Patient Exams during the month of November and donated all proceeds from the exams to Northwest Harvest. "And since Northwest Harvest is committed to healthy eating—about 70% of the food it provides is highly nutritious fruits and vegetables—it's really a great fit for us."
"Every year we try to find ways to up our giving. In 2012, we donated $700 in cash and several food staples as part of this drive. This year we were able to do more. That additional $300 goes a surprisingly long way once it reaches Northwest Harvest, since it will allow Northwest Harvest to provide nearly 450 more nutritious meals. So it makes a big difference."
And the help couldn't come at a better time. "It's hard to see or hear news today and not be reminded about how the economy is adversely affecting the lives of people in our communities," says Dr. Saggau. As the unemployment rate stays high and wages stay low, this time of year is especially hard on children as many families struggle to provide 3 healthy meals a day. A looming cut in the Supplemental Nutrition Assistance Program (SNAP) may make matters even worse. "This is why food banks like Northwest Harvest and their supporters are so critical. As SNAP and other taxpayer-funded nutritional programs are reworked, local charitable organizations attempt to fill an expanding need."
About Lake Meridian Chiropractic
Lake Meridian Chiropractic has been providing quality, effective chiropractic care to the residents of Kent, WA since 1990. Lake Meridian Chiropractic is one of only 2% of chiropractors nationwide to offer the Atlas Orthogonal technique. In addition to working with patients suffering from back and neck pain, Lake Meridian Chiropractic has achieved excellent outcomes for patients with head and jaw complaints, extremity and joint pain, chronic conditions, and injuries related to sports, auto and workplace accidents.
Lake Meridian Chiropractic
12901 SE Kent-Kangley Rd
Kent, WA 98030
(253) 630-1575
http://lakemeridianchiropractic.com
Follow Lake Meridian Chiropractic on Facebook
About Northwest Harvest
Northwest Harvest is a 501(c)(3) non-profit organization that distributes over 1.7 million nutritious meals each month through its network of food banks, meal programs and high-need schools. The mission of Northwest Harvest is to provide nutritious food to hungry people statewide in a manner that respects their dignity, while fighting to eliminate hunger. It distributed over 30 million pounds of food last year.
Northwest Harvest
P.O. Box 12272
Seattle, WA 98102
(800) 722-6924
http://www.northwestharvest.org