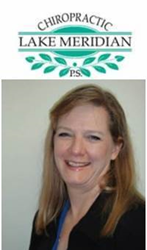 Administrative experience and professionalism are a must, but Kathy also has a caring and approachable nature that sets the right tone.
Kent, WA (PRWEB) January 28, 2015
The team at Lake Meridian Chiropractic, led by clinic owner and chiropractor Dr. Danene Saggau, has recently welcomed a new Office Manager to its ranks. Though she has been in her new role for only a short period of time, Ms. Dickman is already demonstrating leadership and making a solid contribution. Dr. Saggau clearly appreciates the way she has introduced herself to the clinic's team members. "I was very impressed with her day-one approach of talking individually with each member of the team to get to know them and understand their goals. Not just their short-term objectives here in the clinic, but what they want to achieve in their careers and personal lives. It's clear she wants to help them accomplish these things."
Dr. Saggau believes that Ms. Dickman's prior operations experience puts her in a great position to succeed at Lake Meridian Chiropractic. "Running a healthcare office is very complex, particularly in light of recent regulatory changes and insurance companies' response to them. As a doctor, I need to be focused on patient care, not on the day-to-day administration. Kathy's attention to detail and staying up on all the changes makes that possible for me as the owner-doctor. Her experience managing multi-practitioner offices, computer conversion projects and insurance company relationships makes her the right person for the job at exactly the right time."
But what makes Ms. Dickman a good fit for Lake Meridian Chiropractic is more than just her hard skills. According to Dr. Saggau, "Administrative experience and professionalism are a must, but Kathy also has a caring and approachable nature that sets the right tone. I think of her as a 'working manager'. We share the same work ethic and she values patient customer service as much as I do. She doesn't expect any member of the team to do anything she isn't willing to do herself. Plus, I've really appreciated her calm demeanor and level-headed approach whenever challenges have arisen around the office. That's where her experience, talent and personality really shine through."
For her own part, Ms. Dickman is excited about the new opportunity. "I have been working in or managing in a chiropractic office for over 25 years and have seen first-hand how chiropractic care can help people. I work really hard at making sure that the patient's every encounter with the office is pleasant and professional. People need to know that they matter. There is nothing more satisfying that watching someone who is in great pain find relief, and for them to have the peace of mind that comes with knowing we will do everything we can to get the services paid for correctly by insurance companies or whoever is responsible."
Kathy Dickman has more than 25 years of professional experience working in a healthcare setting, where her primary focus has been office management and billing. She is married and has three children, all of whom have been under chiropractic care since birth. The family enjoys outdoor activities like fishing and hunting. Ms. Dickman also continues to play soccer, which has been a passion for several years.
About Lake Meridian Chiropractic
Lake Meridian Chiropractic has been providing high-quality, effective chiropractic care to the residents of Kent, WA since 1990. The practice specializes in care for pediatric, adult and geriatric patients and offers treatments for a variety of injuries (including auto, sports, and workplace injuries) as well as other acute and chronic health conditions. Doctors practicing at the clinic have specialized training and experience in a range of advanced treatment techniques, including Atlas Orthogonal Adjustments.
Lake Meridian Chiropractic
12901 SE Kent-Kangley Rd
Kent, WA 98030
(253) 630-1575
http://lakemeridianchiropractic.com
Follow Lake Meridian Chiropractic on Facebook.