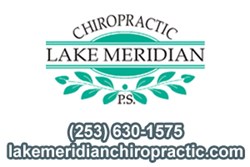 The best part of what I do is witnessing miracles in patients who thought they would never be out of pain. To be a part of changing someone's life forever is the greatest feeling ever.
Kent, WA (PRWEB) July 25, 2013
For Kent Chiropractor Dr. Danene Saggau, serving the same community for nearly a quarter century has been rewarding in many different ways, but there's one that particularly stands out. "One of the joys of being in practice as long as I've been is treating the third generation of a family. I saw the parents and their kids while they were growing up, and now get the privilege of treating the grandchildren!" So what is it about Lake Meridian Chiropractic that encourages families to build long-term relationships like these? A big part of the answer is an ongoing commitment to advanced techniques and technologies that allow the practice's highly-trained team to provide exactly the right type and level of care to each patient. And since the practice specializes in treating pediatric, adult and geriatric patients, Dr. Saggau and her team can help them from the time they're kids to the time they're seniors.
Since opening its doors on August 1, 1990, Lake Meridian Chiropractic has grown along with the Kent community and responded to its changing needs along the way. Asked about the types of patients who come to the clinic for help these days, Dr. Saggau reflects on both their differences and similarities. "Patients come to us for lots of different reasons and they all have a different story to tell. Sometimes it relates to back pain, neck pain or hip pain, or pain from headaches, carpal tunnel syndrome or fibromyalgia. Other times, it's because of specific injuries or chronic conditions. What many of them have in common, though, is a desire to restore their health naturally, without drugs or surgery." The patients have been a constant source of motivation. "We love helping families regain and maintain their health and that has been a focus of ours for 23 years. The best part of what I do is witnessing miracles in patients who thought they would never be out of pain. To be a part of changing someone's life forever is the greatest feeling ever."
It's not surprising that a lot has changed at Lake Meridian Chiropractic in 23 years. The practice has grown from one doctor to three and now uses state-of-the-art digital x-rays and high-tech adjusting instruments that simply didn't exist in 1990. However, some very important things have stayed the same. Dr. Saggau explains, "One thing that has been unique to our practice for 23 years is our commitment to treating the spine in a gentle fashion using high-tech instrumentation to mathematically align the spine. This means no snapping, popping or twisting that people generally think of with chiropractic care." According to Dr. Saggau, many of the techniques and technologies in use at Lake Meridian Chiropractic aren't readily available from other chiropractors—only about 2% offer this type of specialized care.
Lake Meridian Chiropractic is celebrating its 23rd anniversary with food, festivities, daily MVP (Most Valuable Patient) awards and special thank-you gifts to those that refer a new patient during the month of August. The practice is also offering a limited-time $90 anniversary special for new patients that includes initial exam, x-rays and first adjustment.
About Lake Meridian Chiropractic
Lake Meridian Chiropractic has been providing quality, effective chiropractic care to the residents of Kent, WA since 1990. The practice specializes in care for pediatric, adult and geriatric patients and offers treatment for a variety of injuries (auto injuries, sports injuries, workplace injuries) as well as acute and chronic conditions.
Lake Meridian Chiropractic
12901 SE Kent-Kangley Rd
Kent, WA 98030
(253) 630-1575
http://lakemeridianchiropractic.com
Follow Lake Meridian Chiropractic on Facebook.