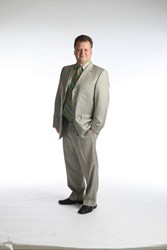 Helping patients feel comfortable and supported is my #1 priority. Chiropractic care helps patients recover quickly from a injuries or chronic pain but new patients have questions they want answered. My website has a 10 video series with those answers.
Kent, WA (PRWEB) October 31, 2013
Dr Paul Byers, Kent Chiropractor, is no stranger to adding a personal touch to his patient's care and his treatment. Dr Byers' philosophy is that patient's deserve to receive individualized treatment that fits their specific and unique habits and physiology.
Based on Dr Byers history, it comes as no surprise that he decided to completely remodel and customize his website to fit his own practice philosphy and to provide new patients his answers on their most common new patient questions. Dr Byers, Chiropractor in Kent, compiled the most common questions new patients had about Chiropractic care and about his practice treatments and philosophy. After compliation, Dr Byers answered these 10 most common new patient questions and updated the rest of his website to support his commitment to patients feeling comfortable.
Dr Byers, Chiropractor in Kent WA, explains, "I have personally helped thousands and thousands of patients recover quickly from a car accident, work injury, personal injury and chronic pain. Over more than 15 years, I have had many new patient questions about Chiropractic care and how Chiropractic helps helps the body recover. As I help many patients, it was important to me to be able to spend the time explaining my answers to these questions and thus, that is why I created my 10 Patient Question & Dr Answer series on my website. Patients can simply go to my website at http://www.byerschiro.com and click on any of the questions they have to hear my answer. Being a Kent Chiropractor, I hope this helps any new patient understand their options in regards to their car accident, work injury, personal injury or chronic pain."
For any Kent WA resident who has been injured in a car accident, work injury or had a personal injury, call Dr Byers at 253-852-1250. Dr Byers clinic accepts car accident claims including PIP (Personal Injury Protection), MedPay and 3rd party bodily injury claims. Work injury claims are also accepted either by state or self-insured companies. Dr Byers clinic is a provider for most major health insurance companies including Regence, Blue Cross and more. The clinic location has been helping patients since 1972 and is the longest standing Chiropractic clinic Kent.
Byers Chiropractic and Massage is located at 9003 Canyon Drive in Kent. Call to schedule an appointment anytime between 8am-8pm. Call 253-852-1250. The clinic is located up the hill from Kent Station and down the hill from Kent Meridian High School on Smith Hill (Kent Kangley Rd) in Kent. Visit them on the web at http://www.byerschiro.com.