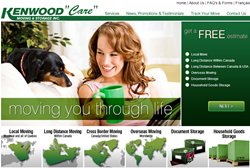 Kenwood Care Offers Overseas Moving at Affordable Costs
(PRWEB) July 11, 2014
Kenwood Care is one of the leading moving and storage companies based in Canada that has been catering to the residential and commercial moving and storage needs of customers, and it's one of the leading Montreal movers.
Besides local moving, long distance moving, and cross border moving, the company now extends its services to include overseas moving at highly reasonable prices.
Check out the company profile at http://www.kenwoodmoving.com.
For those planning a move overseas, Kenwood Care can be the right choice for all global transportation needs. Having more than 4000 agent offices across the globe, there are high chances that one can find an office near where they are moving. The team understands that overseas moving is all about proper planning and they possess the information and the channels to get customers where they want to go.
Speaking at a press meeting, John Delanty, the President of this leading Montreal moving company stated - "We offer full-service overseas move planning, preparation and delivery services via ocean container and air freight. But that's not all. We also offer a wide range of fee-based relocation services such as an information package about your destination, cross cultural and language training, visa processing, school search, housing assistance and other services to help you settle into your new home."
What makes hiring Kenwood Care highly reliable is the fact that the company is a leading member of top associations like the Canadian Association of Movers and International Association of Movers as part of their continued effort to be the best in the industry. Customers can discuss their requirements with the team and get a free quote for their moving needs.
Speaking further, Delanty took pride in the reputation they had earned as a team stating - "We are the premiere Montreal movers and we pride ourselves in our reputation. All of your items are important to us, and whether it is a couch, a desk, a lamp or something else, it will be handled with the same professional care. You want your items to arrive in the same condition they were picked up in, and that is our specialty."
Individuals or businesses looking for Montreal moving companies can contact Kenwood today for a free quote.
About Kenwood Care
Kenwood Care is a Montreal based moving company that has been catering to the moving and storage needs of customers since 1903.
Log on to http://www.kenwoodmoving.com for more info.