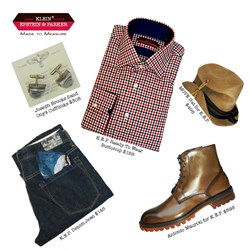 At KEP freedom in fashion comes first.
Los Angeles, CA (PRWEB) October 28, 2013
Klein Epstein & Parker brings stylists an exclusive opportunity to become an insider on all K.E.P. made to measure ensembles. K.E.P desires to liberate men and give them the chance to wear what they want. With a selection of over 1,000 designer fabrics, buttons and lining, K.E.P encourages men's fashion stylists to take interest in the program.
Stylist rewards include: referral credits, press credits, extended pulls, exclusive collections and waived restocking fees. Once applied, K.E.P will review applications within 48 hours and will confirm your qualifications for one of three levels: Elite Stylist, Preferred Stylist or Studio Services Stylist.
Each stylist level comes with its own set of advantages which includes: unlimited pulls, extended time frames for returns, custom and private fittings by appointment, waived stocking fees, access to exclusive collections and fabrics, client referral credit and more.
Applications available via contact link on the K.E.P. Website http://www.kleinepsteinparker.com/Exposed/.
For immediate sign-up access here:
http://rcw.wufoo.com/forms/stylist-program-application/
NEW FALL FASHION VIDEO: http://www.youtube.com/watch?v=fSVGyvjsaLA