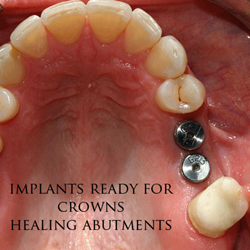 ... there are reasons both cosmetic and functional that dental implants can lead to an increase in the quality of life.
Bakersfield, CA (PRWEB) June 25, 2015
According to a new study by Case Western Reserve University School of Dental Medicine, osteoporotic women who have had some type of dental restoration to replace missing teeth have a "higher overall satisfaction with their lives" if that dental restoration is a dental implant. As reported in a June 11th Medical Xpress article, researchers used the answers to a 23-question survey to compare life satisfaction of dental implant patients with those who have fixed partial dentures, false teeth, or no restoration work done at all, and found that women with dental implants had the highest satisfaction. "While it is rare for this type of definitive, comparative study to be done amongst dental patients, it is good to know that the results mirror what we have been seeing firsthand with our patients for years," remarks Kern Dental Specialties. Their dentists explain that there are reasons both cosmetic and functional that dental implants can lead to an increase in the quality of life.

Cosmetic Benefits – One of the main reasons that a patient may opt for Bakersfield dental implants to replace a missing tooth is to prevent the embarrassment that people typically feel over missing teeth. Especially if the missing tooth is toward the front of the smile, patients can feel subconscious about their appearance, and will often go out of their way to hide their smile from the world. Dental implants can go a long way to restoring this confidence.
Functional Benefits – Dental implants, especially if a patient is replacing a molar, can be extremely helpful in aiding chewing. Additionally, it can prevent pain that may be caused if food gets stuck and packed down into the area of the missing tooth. Even if a patient's primary motivation to have dental implants is cosmetic, they often report increased comfort when eating as an added benefit.
About Kern Dental Specialties
While Kern Dental Specialties is perhaps most well-known as a destination for anyone in need of an endodontist in Bakersfield, they are also a trusted provider of dental implants. Dr. Harry Malholtra is one of the area's most respected endodontists, who conducts root canal procedures for many of the region's top dentists who know of his reputation for patient comfort and care. Dr. George Bogen and Dr. James Malouf round out the rest of the Kern Dental Specialties team, providing restorative care to patients of all ages. Anyone interested in scheduling an appointment for dental implants or for endodontic care can call Kern Dental Specialties at 661-324-7668 or visit the office's website at http://www.KernEndo.com.