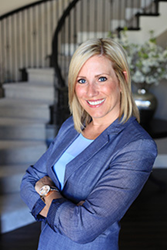 This award means so much to me, as it is based on customer service.
Denver, CO (PRWEB) January 19, 2016
Five Star Professional is pleased to announce Kerri Dowling, RE/MAX Success, has been chosen as one of Denver's Rising Star Real Estate Agents for 2016.
Five Star Professional partnered with 5280 Magazine to recognize a select group of Denver-area real estate professionals who, in only a short period of time as agents, have performed at a high level with strong client satisfaction. Kerri is featured, along with other award winners, in a special section of the March issue.
"This award means so much to me, as it is based on customer service. I take pride in giving my clients the best customer service that I possibly can. I treat each client the way I would want to be treated if I were in their position. I am so honored to be a part of this. It really means so much to me," says Kerri.
As part of the Rising Star Real Estate Agent award program, agents are measured using an objective, in-depth research methodology with significant focus on customer feedback, sales volume and overall satisfaction.
"I would like to thank my clients who trusted in me to do the best job that I could for them. I would not be where I am at in my career if they did not believe in me. I know to some it is just buying and selling homes, but to me it really is helping people build their lives, and that is a big deal to me," Kerri explains.
"Rising Star Real Estate Agent award winners are agents to watch. Based on their impressive sales volume, transactions and client service, they show tremendous potential to excel in the profession for years to come," says Jonathan Wesser, Research Director, Five Star Professional.
About the research process:
Now entering its 13th year, Five Star Professional conducts in-depth, market-specific research in more than 45 markets across the United States and Canada to identify premium service professionals.
Five Star Professional contacts thousands of recent homebuyers and seasoned real estate professionals to identify Rising Star award candidates who are strong performers, provide superior customer service and embody professional excellence. Candidates are also evaluated on objective criteria, such as experience, production levels, and disciplinary and complaint history.
Real estate agents do not pay a fee to be considered or awarded. For more information, visit http://www.fivestarprofessional.com.