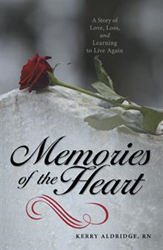 SAMMAMISH, Wash. (PRWEB) April 04, 2016
When her husband developed lung cancer, Kerry Aldridge, RN, had to learn to live one day at a time. His 14-year battle with the disease and the struggle to live with grace and gratitude are the basis for "Memories of the Heart: A Story of Love, Loss, and Learning to Live Again" (published by LifeRich Publishing), her debut book.
"My desire to help people understand that grief is a process and you can get through it with the help of others (inspired this book)," Aldridge says.
A story of love and loss and trying to maintain balance when a loved one is facing the end of their life, "Memories of the Heart" is the true story shared from Aldridge's perspective as a hospice nurse. It reveals the struggles and rewards of nursing and how Aldridge had to learn how to be the wife of a cancer patient and not the nurse.
Through her work, Aldridge hopes her readers see "that they never have to be alone in their grief and loss, there are always people willing and able to help you."
"Memories of the Heart"
By Kerry Aldridge, RN
Hardcover | 5.5 x 8.5 in | 122 pages | ISBN 9781489706805
Softcover | 5.5 x 8.5 in | 122 pages | ISBN 9781489706799
E-Book | 122 pages | ISBN 9781489706812
Available at Amazon and Barnes & Noble
About the Author
Kerry Aldridge is a registered nurse with over 20 years of experience in almost every aspect of patient care. She is a mother of three and grandmother of five. Hospice nursing has been the most rewarding thing Aldridge has done in nursing. This is her first book.
LifeRich Publishing, the strategic publishing partnership of Reader's Digest and Author Solutions, LLC, was created to provide all writers a platform for sharing their stories, recipes, advice and more. LifeRich authors will benefit from a wealth of editorial design, marketing and education resources, specially created by Reader's Digest editors for the enrichment of these LifeSmart individuals. Books can be published in print, ebook or audio formats, with additional distribution to up to 25 million Reader's Digest customers through its online properties.For more information about LifeRich Publishing, or to begin publishing your book today, please call 1-888-238-8637 or log on to liferichpublishing.com. Follow @LifeRichPub on Twitter and "Like" us at facebook.com/LifeRichPublishing for the latest updates.