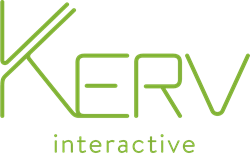 We wanted our webinar with AdWeek to help demonstrate the enormous power and value of interactive video, which is especially relevant during our current quarantine and the increase in active online video viewership
AUSTIN, Texas (PRWEB) June 04, 2020
KERV Interactive, a multi-award-winning interactive video company revolutionizing the performance of digital advertising with its patented technology, partnered with AdWeek on Wednesday, May 27 to host a dynamic webinar in an effort to help viewers better understand how to utilize and strategize for interactive video campaigns.
COO, Marika Roque, along with VP of Media & Client Strategy Bill Roberson, started by walking attendees through new data compiled on current interactive video trends during the COVID-era, split up between gaming, tech/consumer electronics and food/beverage verticals. The data reveals that interactive video is now outperforming standard video campaigns even more than prior to the pandemic.
Three unique real-life case studies demonstrated how KERV, along with their clients, effectively increased performance, interaction rates and overall time spent with their brands. Further, the time spent with brands concentrated on specific and dynamic high-performance strategies, such as value-based messaging, store hour and service updates, or relatable industry-specific messaging
The webinar focused on educating viewers on best practices and future recommendations versus simply touting outright performance. Another benefit of interactive video is the ability to orchestrate campaign feedback, creative variations, as well as messaging, in a much more granular and refined manner. Knowing that interactive video is still a relatively new concept in practice, KERV is enlightening clients and brands to consider video campaign performance with a whole new perspective and intelligence. With over 1000 registrants and more than 370 active viewers for the actual event, AdWeek and KERV considered this a very successful Webinar, landing above standard AdWeek benchmarks for similar Webinar events.
"We wanted our webinar with AdWeek to help demonstrate the enormous power and value of interactive video, which is especially relevant during our current quarantine and the increase in active online video viewership," notes Marika Roque, COO of KERV.
To view the webinar video follow this link: https://event.webcasts.com/starthere.jsp?ei=1314287&tp_key=9ae14a4d36&sti=webinar_page
For a static version of the presentation, follow this link: https://kervit.com/adweek-2020/
To learn more, please contact Jeannine Jacobi of Fresh PR at 323-903-7063 or jeannine@freshpr.net, or visit https://kervit.com.
About KERV Interactive
Based in Austin, Texas, KERV Interactive is the world's most advanced interactive video technology company and is revolutionizing the future of video engagement through dimensional storytelling. KERV's digital advertising platform was built on cutting-edge, patented technology and adds extraordinary value to brands, agencies, and creative and data-science teams by creating audience-to-brand connections within video like never before. Leveraging breakthrough machine learning techniques and AI with unmatched processing speed, the KERV technology recognizes depth, dimension, and objects within a video just as precisely as the natural eye. KERV enables every frame in every scene of any digital video to be an immersive, interactive experience for consumers.