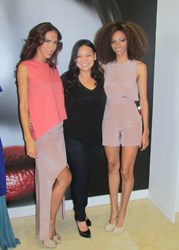 We had a huge turnout, it was a great event!" says Laura Mitidiere, a representative from Dr. Kessler's aesthetic surgery practice.
Newport Beach, CA (PRWEB) August 26, 2013
On Thursday, July 25, 2013, a "Beauty and Style" event was hosted by the Toni&Guy salon at Fashion Island in Newport Beach, California. Guests were able to meet with Dr. Rob Kessler for cosmetic surgery consultations.
The evening of beauty and style, held from 5pm to 8pm, featured consultations with Dr. Kessler, hair styling advice from Toni & Guy, and spring fashions from annie + jade designer Annie Le. Attendees received group beauty consults on procedures such as Ultherapy, and were able to receive glow and go peels and Botox treatments. Skincare was showcased and blow outs were given. To top it all off, guests went home with swag bags and could be entered into special raffle giveaways. Of course, no event is complete without some light refreshments. The combined expertise of leaders in the beauty and style industry lead to an informative and fun evening. The night was reported to be a great event with a huge turnout. Smiles of refreshed faces were seen everywhere.
Cosmetic surgery consultations are educational experiences for patients who are considering a procedure. Being informed about the possibilities and limitations of certain aesthetic enhancing methods can lead to more satisfying outcomes. Dr. Kessler believes good surgical consultations also take into consideration the desires of the candidate and how a procedure can be used to improve their appearance, not alter it.
Dr. Rob Kessler has extensive experience with cosmetic procedures and possesses Board Certification in General and Plastic Surgery. His medical training has brought him around the country, from earning his medical degree in Boston from Tufts University, to completing a General Surgical Residency with North Shore NYU in New York. He then went on to complete a Plastic Surgery residency with the US Air Force and the University of Texas. While on active duty with the US Air Force, he served as Professor of Surgery to the Uniformed Services University Health Sciences and Wright State University School of Medicine. Following time spent actively practicing cosmetic surgery, he opened practices in Beverly Hills and Santa Ana, California. He is on the council of the California Society of Plastic Surgeons. Dr. Kessler is also a member of the Public Education Committee of the American Society of Aesthetic Plastic Surgeons.
Dr. Kessler's practice is located in Newport Beach, California, on East Pacific Coast Highway. With his artistic eye and technical training, he is able to deliver beautiful, harmonious results for his patients whether they are receiving Botox injections for frown lines or a breast augmentation. Dr. Kessler performs a wide range of face, body and breast procedures including facelift, blepharoplasty, breast lift, breast reconstruction, tummy tuck, liposuction and more. Patients leave the office not looking like another person, but an improved version of themselves. To view the complete list of procedures offered by Dr. Kessler, visit: http://www.drrobkessler.com/Pages.aspx/Procedures
For information on the next event with Dr. Kessler or to schedule a consultation, contact Laura(at)drrobkessler(dot)com. Inquiries may also be made at 949-644-6544.
Contact Information:
Dr. Robert W. Kessler, MD, FACS
2121 E Pacific Coast Hwy #200
Newport Beach, CA 92625
949-644-6544