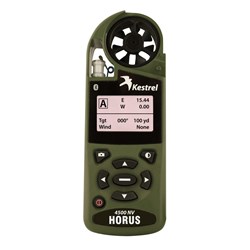 Free shipping makes it cheaper and more stress free to order online, right in time for the holidays!
Birmingham, MI (PRWEB) November 22, 2013
Kestrel long range shooting meters now come with free shipping at KestrelMeters.com, the leading online retailer of Kestrel weather meters recently announced. Kestrel weather meters are portable, professional condition measuring devices that are often used in extreme environments, and the Kestrel 4500NV Applied Ballistics meter has specific measurements, such as standard bullet trajectories, that were specially made for long range shooters and hunters.
Robert Smith, KestrelMeters.com spokesman, had this to say about the shipping deal: "As the hunting and holiday seasons both approach, these long range shooting meters are in high demand as a perfect gift, and perfect piece of equipment. No shipping costs makes it cheaper and no-stress to order online, right in time for the holidays!"
The recently released Kestrel 4500NV Applied Ballistics features the trusted Litz library of bullet coefficients, plus a trajectory learning system that learns the bullet trajectory of an individual gun. It features many of the same technologies used in military-grade versions of Kestrel meters.
Kestrel sells top of the line wind meters and handheld weather meters that are designed to be easy to use, highly durable and portable. The company provides products for a wide range of professionals, including police, sports coaches, firefighters, farmers, HVAC techs and military personnel all over the world. For more information, please visit http://kestrelmeters.com.