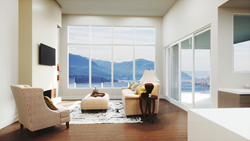 These homes are situated in a way that this location deserves, and that these homeowners deserve.
KELOWNA, BC (PRWEB) July 19, 2017
Before the builders behind Kestrel Ridge began laying the plans for their contemporary paired homes, they took a look at typical designs for similar Okanagan real estate developments, and decided to do everything different to other Kelowna luxury homes for sale.
"We looked at the way traditional floor plans are designed and where space is allocated. We saw that when you're trying to fit in extra guest rooms and bathrooms in a single-living concept, everything becomes smaller, so we said, 'Let's spend the square footage on the people who live in the home every single day,'" says Adrian Block, Owner, Rykon Construction, the builders behind Kestrel Ridge.
This Kelowna luxury real estate development's focus on "pampering the homeowner" led to significantly larger master bedrooms, walk-in closets, great rooms and decks, all of which make the best use of the space as part of a single-level living concept.
"These homes are situated in a way that this location deserves, and that these homeowners deserve," says Landon Block, Rykon Construction project manager.
Located at the southernmost tip of Kelowna and below the Kettle Valley Railway, Kestrel Ridge's 57 contemporary paired Upper Mission homes are situated on only one side of the block to extend privacy, room on the street, and, most importantly, the stunning lake and city views.
"If you look at the kitchen, for example, if you were sitting down at most islands you would have either your back to the view or to the party," says Landon Block, of the 1,600 square foot main floor design. "Not here. We've placed the island in such a way that you're always taking in the best of both worlds."
Carefully designing through the lens of what a 55+ couple really wants meant a focus not just on relaxing and entertaining Okanagan-style, but also the little things that make everyday life better: a separate entrance so guests don't have to trek through a messy laundry room, a functional mudroom, a finished walk-out 'view basement' for guests, and, of course, low-maintenance landscaping.
Another distinct and instantly detectable difference for these Kelowna homes are what Adrian Block calls "quality of life" features, such as the 14-feet wide living room windows positioned to bring in light throughout the day and seasons.
"These are not the typical windows you would see at a spec home. The feeling you get is, you don't have to settle for less anywhere, not in quality and not in layout."
Other perks, less sexy but important, include electrical service of 200 amps, gas hot water tanks, recirculation pumps for instant hot water, an HVAC zoning system, security system, and a tried and true party wall system.
"We have put a lot of thought into our design," says Adrian Block.
Kestrel Ridge Phase 1 will become available through June and July 2017, followed by Phase 2 in September/October and Phase three in January/February 2018.
ABOUT KESTREL RIDGE
Situated in the sought after Upper Mission area and at the southernmost tip of Kelowna, Kestrel Ridge's 57 contemporary paired homes offer premium single-level living, stunning Okanagan Lake views, and easy access to trails. Phase 1 homes begin to open June 2017, and the last of Phase 3 homes will open in February 2018. Kestrel Ridge was built by Rykon Construction, a trusted builder with more than 20 years experience building award-winning Okanagan real estate.
For more information, please contact:
Harty Podewils
Sales Representative
Rykon Construction
sales[at]kestrelridge[dot]ca
250-862-1570