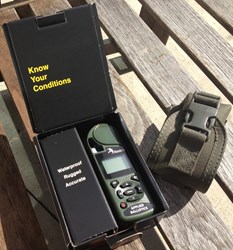 We are very excited to put out this article about HVAC technicians - many are simply unaware that there are solutions that make their job easier, and hopefully this article will play a little part in that
Birmingham, MI (PRWEB) August 17, 2013
KestrelMeters.com, leading provider of Kestrel Pocket Weather and Air Flow Meters, has recently released an article teaching HVAC technicians the benefits of an air flow tracker.
Typically, air flow is measured and calculated manually through equations and calculators, making the quoting and review process for HVAC technicians very long and tedious. Kestrel's new article, titled "Portable Air Flow Tracker – A Must Have for HVAC", highlights the benefits of having an automatic, portable air flow tracker in an HVAC arsenal.
Tyler Smith, spokesman for KestrelMeters.com said: "We are very excited to put out this article about HVAC technicians - many are simply unaware that there are solutions that make their job easier, and hopefully this article will play a little part in that."
About KestrelMeters.com:
KestrelMeters.com is an official online retailer for Kestrel brand meters, which are used in athletic training, law enforcement, firefighting, military, HVAC, and hunting applications both professionally and recreationally. In addition to selling handheld weather meters, KestrelMeters.com also sells weather meter accessories such as tactical cases, tripods, calibration tools, replacement parts. For more information and to see currently available products, please visit KestrelMeters.com.