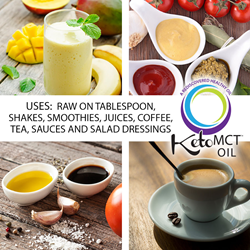 "We are here to provide an interactive experience for our customers"
(PRWEB) June 27, 2016
KetoMCT™ announced launch of their first product, potent C8 (Caprylic Acid) MCT (Medium Chain Triglyceride) oil in April of 2016. MCTs are unique types of fat known to promote fat burning, improve cognition and provide sustained energy. C8 is the most potent MCT available on the market today.
KetoMCT™ is spearheading a new movement by helping consumers understand precisely what they are buying. There are MCT products on the market containing C8/C10 blends without clear labeling of the amounts and percentages of C8 and C10. There are also products such as coconut oil, or "modified coconut oil" with intact triglycerides erroneously claiming to be predominately MCTs or medium chain fatty acids. Consumers are understandably extremely confused. The company's mission is thus to be completely transparent with consumers about the amount and type of "true" MCTs in their products. At KetoMCT™, there is an unwavering commitment to keep product messaging and claims honest. "We are here to provide an interactive experience for our customers," stated Co-Founder, Anna Berger.
In addition to accurate labeling, KetoMCT™ manufactures its final products exclusively in the USA. KetoMCT™ products are also processed without chemical solvents starting with sustainable sources. "Our company cares deeply about the health of our planet" stated Berger.
The company takes product integrity one step further with their "Serious on Science" ("SOS") attitude, to ensure customer clarity and understanding. "Right from our company's inception, our motto was to be SOS," according to Berger. "The company took a rare step in the industry and hired world class lipid and nutrition scientists to address questions customers may have, and assure literature disseminated by the company is fair and accurate.
KetoMCT™ is also bringing innovation to the way MCTs are consumed. In addition to competitively priced 32 oz. bottles, the company also offers convenient travel sizes. Consumers no longer need to miss a serving of KetoMCT™ when travelling or away from home, assuring lack of product confiscation by pesky TSA agents.
Exciting additions to the product line are in the planning stages, along with international expansion.
About KetoMCT™
KetoMCT™ offers efficacious, state-of-the-art nutritional ketogenic products. The company's mission is to help people with weight management, mental focus, energy and diabetes. Their products are currently available on Amazon and later this summer through their website. For more information on KetoMCT™, visit http://www.ketomct.com.
Media contact: Anna Berger
Phone +1 (612) 516 -5787
SOURCE: KetoMCT™
Related Links:
http://www.ketomct.com
https://www.youtube.com/watch?v=XYaiFc2sVPY