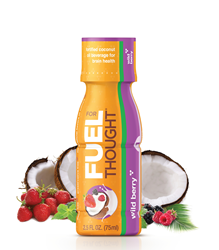 This is a very exciting study on the benefits of stimulating increased ketone activity in the body
Bloomfield, CT (PRWEB) September 17, 2014
Promising new research published in the Journal of Alzheimer's Disease (August 2014) sheds more light on the potential ability of ketones to support brain function in people with mild Alzheimer's disease dementia. The study shows that brain hypometabolism associated with mild Alzheimer's disease dementia may be caused by impaired glucose uptake and/or utilization, and results suggest that increasing ketone levels may help preserve brain function.
The study, by the Research Center on Aging and Department of Nuclear Medicine and Radiobiology at the University of Sherbrooke in Canada, compared mild Alzheimer's patients with gender- and age-matched cognitively normal adults to track the cerebral metabolic rate of glucose (CMRg). They found that the study participants with Alzheimer's had 13% lower global CMRg than the cognitively normal adults. In other words, the patients with Alzheimer's showed lower brain glucose metabolism in some regions of the brain. The encouraging news was that the affected patients showed no diminution of ketone metabolism.
These findings corroborate earlier studies that suggest ketones, the only alternative fuel source for the brain, could help compensate for the brain energy deficit in patients with Alzheimer's dementia and other neurodegenerative conditions.
"This is a very exciting study on the benefits of stimulating increased ketone activity in the body. Medium chain triglycerides (MCTs) will naturally be converted in the liver into ketones, a powerful alternative fuel source for the brain when glucose is not available or when an aging or impaired brain can no longer effectively utilize glucose," according to Theodore VanItallie, M.D., co-founder of Cognate Nutritionals, makers of Fuel For Thought®, and chair of the company's Scientific Advisory Board. Made with organic coconuts that are naturally rich in MCTs, Fuel For Thought is an easy-to-drink coconut oil beverage clinically proven to increase levels of ketones.
Fuel For Thought is being used in a clinical trial at the prestigious USF Byrd Alzheimer's Institute in Tampa, Florida. The comprehensive trial, which began in 2013, is assessing the benefits of coconut oil and MCTs for individuals with mild to moderate Alzheimer's disease. Fuel For Thought was chosen as the delivery method because of its potency, purity and palatability compared to pure coconut oil.
Fuel For Thought was developed by a team of experts in clinical nutrition and metabolism as a "functional food": a food with additional health benefits that may reduce disease risk and/or promote good health. The fortified extra-virgin coconut oil beverage was developed specifically to support optimal brain health, providing an all-natural and easy-to-consume way to maximize the benefit of MCT consumption.
Two servings of Fuel For Thought provide the MCT power from 15 coconuts. Offered in a Wild Berry flavor, the beverage is free of preservatives, cholesterol, trans fats or artificial additives. Each 1.25 ounce serving delivers two-and-a-half times the benefits of the same amount of pure coconut oil with only one third of the calories.
Prepackaged in recyclable bottles with two recommended servings, Fuel For Thought requires no preparation or refrigeration. Fuel For Thought is available for less than $2 per serving online through the Shop tab on the site. For more information, please visit http://www.fuelforthought.co or follow us on Facebook.
About Fuel For Thought:
Cognate Nutritionals, makers of Fuel For Thought, has applied scientific principles and significant research, together with the highest quality ingredients, to create a natural food-based option for people looking to address common health concerns and age-related cognitive decline. Headquartered in Bloomfield, CT, Cognate Nutritionals developed Fuel For Thought based on the research of Dr. Theodore B. VanItallie and a scientific advisory board of medical and research professionals, bringing together expertise in ketones, lipids and metabolism to deliver innovation at the forefront of functional foods.