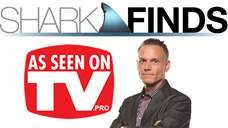 Kevin Harrington is interested in talking more about taking the next step forward with FlexPro. FlexPro VP, Chris Kole.
St. Petersburg, FL (PRWEB) February 02, 2016
Shark Finds and Kevin Harrington with AsSeenOnTV.pro announce the launch of a new DRTV campaign with FlexPro, in connection with Big Pitch Radio. FlexPro's Vice President, Chris Kole was invited to interview on the popular podcast for creative innovators. Time spent in the radio show produced positive results for both Harrington and Kole. FlexPro is gaining more interest from the "Inventor of the Infomercial", and the all-in-one sand, paint and clean home tool may soon find its way into American houses, condos and apartments.
Home improvements and DIY projects can be very fun and rewarding, but they can also be time-consuming, taking endless hours, dollars, and effort to complete. However, with FlexPro you can simplify your life with a specially designed and patented, all-in-one hand tool that lets you sand, paint, and clean with ease. Made to squeeze into tight corners and spaces, the FlexPro features a unique, ergonomic design that leaves you with professional and crisp results. With FlexPro you will see results both on the wall and in your muscles and joints, as you no longer have to work endless hours straining your body.
Being part of the Kevin Harrington, Shark Finds and AsSeenOnTV.pro experience has been both fun and productive. It has helped us move forward in our marketing and packaging concepts along with securing retail business. We just received good news Home Depot has decided to add the FlexPro Ultimate Tool in select stores starting this spring. This coincides with True Value Hardware adding our products to all 12 warehouses. Being a participant with Shark Finds and AsSeenOnTV.pro opens additional opportunities. Like the "Big Pitch Radio Show" we were involved in. Being able to pitch your product to experts like Kevin, Jason and Marla was unbelievable. They loved our product and want to invest. A Home Run! What a great campaign to be involved in. Kevin, Shark Finds and As Seen on TV.pro stack the deck for success!
As part of its DRTV campaign with AsSeenOnTV.pro, FlexPro will be appearing in 30 and 60 second spots set to air nationwide and feature the original Shark himself, Kevin Harrington. AsSeenOnTV.pro is comprised of an award-winning team of producers, writers, videographers, and editors as well as industry veterans dedicated to finding the latest, most innovative products and ideas, and putting them on the DRTV map. For more information on FlexPro, please visit http://www.flexproind.com.
About Kevin Harrington
As the inventor of the infomercial, founder of As Seen on TV, and one of the original Sharks on Shark Tank, Kevin Harrington has worked with some of the world's biggest celebrities and launched some of the best-selling DRTV campaigns in history. Since producing his first 30-minute infomercial in 1984, Harrington has been involved in over 500 product launches that have resulted in over $4 billion in sales. Now, in his latest venture with AsSeenOnTV.pro, Harrington is on the hunt for the best new products and ideas, bringing them to homes everywhere through personalized DRTV campaigns featuring the Shark.
About AsSeenOnTV.pro
Headquartered in Florida, AsSeenOnTV.pro is a full-service production, branding, and marketing company specializing in highly visible campaigns in direct response television.
About Shark Finds
The Shark Finds creative team guides these spots from script phase to screen-ready stage to final airing. The Shark Finds team has produced millions of dollars worth of broadcast placements in just over two decades, with the help of their regional and national relationships.