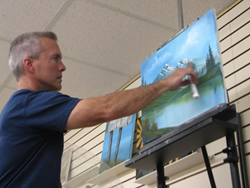 There are a lot of studios which do the drink and paint classes. Mine is not that kind of class," Miller said.
Cincinnati, OH (PRWEB) September 18, 2017
Cincinnati area artist and teacher Kevin Miller, announced his TV series, Painting with Kevin is now being broadcast on Spectrum TV via Waycross Community Media. Well known throughout the Midwest, Kevin travels the area teaching classes and sharing his entertaining artistic skills with hundreds of students.
Best known for his Bob Ross style of painting, Kevin has perfected his own set of skills. He was a student of the Ross-style of oil painting which is what drew him into the profession. "I didn't even decide to draw or paint until I was in my 20's," Kevin said. "Then that's all I wanted to do." And in fact, he has made a living painting and teaching others. Miller travels Ohio, Indiana, Kentucky, and West Virginia. He has a local studio in Loveland, OH, where he teaches both acrylic and oil classes.
His love of the outdoors and wildlife has prompted him to enter and win many contests for his work. Birds, animals, portraits and of course, landscapes, have become his staple.
"There are a lot of studios which do the drink and paint classes. Mine is not that kind of class," Miller said. As a professional artist, the classes he teaches are designed to give instruction to those who are seriously interested in learning the skills involved in painting. Most of his students return on a regular basis and while they may not have the desire to sell their work, most just love the idea of painting and want to improve their techniques. Miller provides the instruction so all ages can benefit from his words and examples.
Partnering with Waycross Community Media, Miller now offers his classes on TV, on-line and will soon be providing DVDs to those who are interested in purchasing them. "I think everyone should have the opportunity to learn as much about a hobby or interest as they possibly can—if this helps those painters, then I am happy." Miller mentioned one such artist who had studied every painter he could find on TV and watched the programs multiple times. But he had never attended a class or even picked up a paint brush. When he finally came to Miller's studio, he was hooked and has attended classes every month for about three years.
"Painting is a different kind of therapy for everyone who picks up a brush. For some it is an outlet for their hectic week; for others a great way to express themselves; and still others just love the idea of putting paint on a canvas. Whatever their goal is (with regard to painting) I want them to become the artist they dream about becoming." Miller said.
Painting with Kevin can be seen twice a week on Spectrum and Fioptics via Waycross Community Media. Visit Waycross Community Media for a weekly schedule of times. Miller also travels to cities to do private events in churches, businesses and groups.
For more information contact:
Kevin Miller
Kevin Miller Art
1-937-213-1620