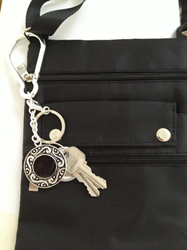 With Keys Aqui, your keys will be right there when you need them
Raleigh, NC (PRWEB) September 25, 2014
Nifty-Nifty.com, creators of 'As Seen on TV' hands-free fashion gadgets, is at it again. This time, they've created a highly stylized way for consumers to quickly and easily access their keys with Keys Aqui Key Finders.
"Keys Aqui, The Best Key Finder, is our newest unique creation, and we at Nifty-Nifty.com can't wait to share it with the world", explains Wendy Miller, co-founder of Nifty-Nifty.com. She continues, "This attractive little key clip attaches easily to one's purse strap, belt loop, dog leash, or backpack, and allows consumers to access their keys instantly. No more frantic searching for house or car keys in the dark. With Keys Aqui, your keys will be right there when you need them."
To learn more about Nifty-Nifty.com's Keys Aqui Key Finder, visit :
*http://www.nifty-nifty.com/keys-aqui-key-finder-easily-find-your-keys-and-have-purse-bling/
Keys Aqui by Nifty-Nifty.com is the perfect key chain accessory, with a posh designer look. This key carrier, complete with a quick-release caribiner clip, measures approximately 5.5 inches long and 1.75 inches across, and beautifully complements any handbag or back pack.
Available in several incredible styles, including, Ebony Swirls, Pearl Cross, Paw, Brighton-ish, Butterfly, and Hearts, Keys Aqui is key chain jewelry at its finest – as eye-catching as it is convenient, and it makes a great gift, too.
Keys Aqui keeps consumers safe, and looks great. Forget about fumbling for keys, forever. With Keys Aqui, the best keys carrier, by Nifty.Nifty.com, consumers will never again face the frustration of digging for keys in the cold and rain, and will never misplace keys again.
About Nifty-Nifty.com   
Nifty-Nifty.com caters to a diverse clientele from all over the globe. As the world's leading online retailer of innovative, versatile products, Nifty-Nifty.com specializes in nifty products such as Biker Purses, Phubby, Specs-in-a-Sec magnetic eyeglass holders, Cell-Fie HipBand Cellphone Holders and Cross Body Cell Phone Purses, among others. All products are offered at highly competitive prices with zero charge shipping in the USA and Canada.
http://www.Nifty-Nifty.com 
Tel. 858-248-2302